Highways England has reminded drivers to check that the loads they are carrying are safely secured as it released a video of a roadworker being knocked down by a flying metal object and images of items strewn across roads.
The government-owned company said more than 46,000 items were found on its network over just 10 months.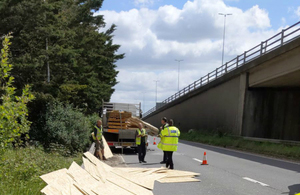 It said most incidents occur on the main routes, the M6 and M1, followed by the M5, M62 and M25.
With eased government restrictions allowing for overnight stays in England from 4 July, roads this weekend are expected to be the busiest so far this year, and many of these drivers are likely to have roof boxes and bikes strapped to their vehicles.
On road team manager Glenn Lamont, who patrols roads in Cumbria, said: 'I personally have dealt with roof boxes, bicycles, sofas, LGV trailer roofs, a domestic oil tank and many other weird objects.
'The most unusual item I came across was a 40ft mast off a sailing ship. It was at an angle across two lanes.'
Highways England said these items can cause severe disruption, closing roads for several hours.
There is also the risk of accidents: camera footage captured the moment a piece of metal, which had fallen from a passing HGV, hit a road worker's leg and knocked him down. Fortunately, he did not suffer any serious injuries.
Ben Aldous, RAC patrol of the year, said: 'Just a few minutes spent making sure things like bikes, roof boxes, and caravans are completely secure, and then double-checking them can make the difference between a trouble-free journey and one that puts people's lives at risk as well as causes long delays for other travellers.'