More than 10 million cars are predicted to be on the roads in England this weekend, as the easing of lockdown restrictions allows for overnight stays.
According to a survey by the RAC, around a third of drivers in England are taking to the roads for an overnight stay, which would make it the busiest weekend on the roads so far this year.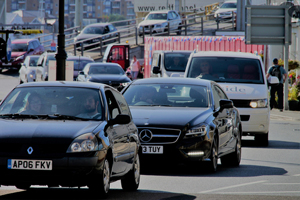 From 4 July, the easing of government restrictions will allow people to visit family and friends inside their homes for the first time since March. A fifth (19%) of respondents to the RAC survey said they would be travelling to stay with family or friends this weekend, which could mean six and a half million drivers.
With holiday accommodation also permitted to open this weekend, a further 11% of respondents said they planned to take trips to campsites, hotels, B&Bs or self-catered accommodation.
RAC spokesperson Rod Dennis said: 'This could lead to some busy conditions on the roads, with the location of queues likely to be dependent on just how far people travel – motorways and major A-roads could end up taking the brunt of the traffic if people have longer distances to drive to see family and friends or to take a weekend break.'
Mr Dennis added: 'The likely increase in journeys being taken by car next weekend follows a clear increase in traffic on the roads in recent weeks, with our own analysis showing that the number of motorists breaking down is now near enough back to what we would expect for late June.'
The RAC warned that potential breakdowns would make road traffic worse, and advised all drivers to check their vehicles before setting out.
The breakdown organisation is also backing calls from Highways England for drivers to ensure any loads they are carrying, such as trailers, bikes, or roof boxes, are properly secured.