More than 30 people were killed or seriously injured in motorway crashes in 2016 due to illegal or faulty tyres, but almost three quarters of tyre failure-related motorway incidents could be prevented by simple checks, according to new research.
An 18-month study by Highways England and tyre manufacturer Bridgestone found that almost three quarters of tyre failure samples analysed involved poor inflation or debris penetration issues – problems that could be avoided with 'better tyre husbandry'.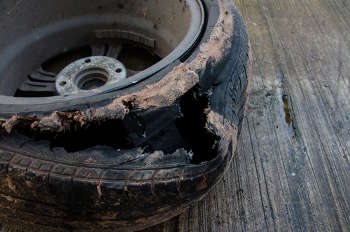 Richard Leonard, Highways England's head of road safety, said: 'This important research confirms our view that road users must play a bigger role and get into the habit of checking tyre pressures and tread depths and looking out for nails and other debris stuck in tyres before setting out on journeys.
These simple checks could save lives.'
The government-owned company said 32 people were killed or seriously injured in motorway road traffic accidents in 2016 due to 'illegal, defective or underinflated tyres'.
Bridgestone and Highways England are partners in the multi-agency road safety charity Tyresafe. They worked together to carry out the research over 18 months between the beginning of 2016 and last summer.
Staff working for Highways England at depots across the West Midlands provided 1035 pieces of tyre debris from motorways for a technical engineering team from Bridgestone to analyse.
The findings from tyre segments retrieved from the M1, M6, M40, M5 and M42 revealed that:
56% of tyres failed due to road/yard debris penetration
18% failed due to poor inflation
8% failed due to poor vehicle maintenance
1% of tyres failed due to manufacturing defects
1% of tyres failed due to excessive heat
16% of the tyres couldn't be specified to one particular problem
Highways England said some of the samples were particularly alarming, with a temporary 'space-saver' spare tyre being run to destruction, while a number of potentially lethal and illegal 'string' repairs were also found on car tyres, 'which are completely unsuitable at any speed, let alone 70mph speeds on motorways'.