A new nationwide campaign aims to put pressure on Highways England to improve the quality of its signage and road safety.
Road user watchdog Transport Focus has launched said its Sort My Sign campaign, which aims to get road users to report poor signs on the 4,300 miles of the strategic road network (SRN).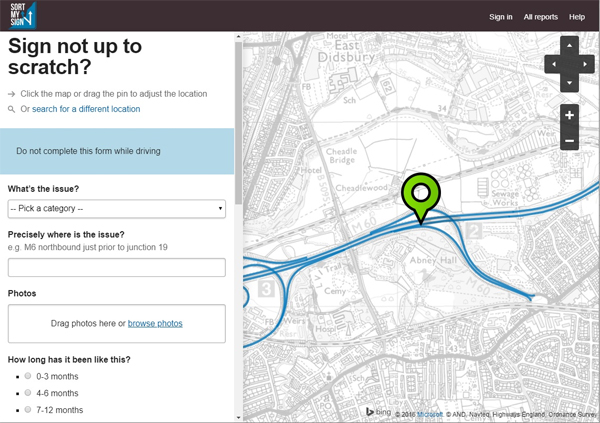 It has launched a dedicated website where road users can give the position of inadequate signs, including uploading photos. Users are advised not to do so while driving.
Transport Focus said it will use these examples to build up a map of issues across England and press for improvements.
It said the campaign aims to increase the usefulness and effectiveness of information on roads, including messages on electronic signs and that this will allow more road users to make informed decisions in plenty of time, improving safety and reducing stress.
Chief executive Anthony Smith said: 'We want to hear from road users about signs and information that aren't up to scratch. We'll use what you say to press Highways England to make journeys easier and safer.
'There is nothing more frustrating than missing your turnoff because the sign was hidden behind a tree or missing crucial information.
'While we have some of the safest roads there are still too many signs which are broken, confusing or out of date. If it's not clear, it's not safe.'
Transport Focus is calling for Highways England to:
sort broken or inaccurate signs reported by road users
provide better information during delays and unexpected disruption
review the existing standards for signs on the SRN
Highways England's customer service director, Mel Clarke, said the campaign had 'the potential to help us improve the work we already do to keep our signs clear, accurate and timely'.
The government-owned company said it has maintenance contracts and network inspectors, and uses feedback from its Customer Contact Centre to recognise where signs or messages, including electronic ones need to be fixed or made more visible, or if new messages are needed.
It added that it has 27 new messages for electronic signs, it will be introducing from April to provide improved information. These messages include updates for people in trapped traffic, and other information that drivers have told us is useful, such as 'TRAFFIC BEING RELEASED and 'RECOVERY IN PROGRESS'.
It has also changed its messages regarding potential (unconfirmed) incidents, debris or pedestrians to 'REPORT OF [reported issue]'.
Last year the watchdog recommended that junction numbers on motorway signs should be moved to cut crashes at junctions, having carried out a survey to test the hypothesis that some unsafe driving is related to the position of the junction number on the signage.
Drivers said the top left of the sign was their preferred position for the junction number, because it is less likely to be obscured by either large vehicles or vegetation.