Councils in England could have control of enforcement powers for moving traffic violations by the middle of next year, the Department for Transport's (DfT) head of traffic and technology has said.
This summer the Government pledged to implement in full Part 6 of the Traffic Management Act 2004, which would give local authorities enforcement powers over contraventions such as making banned turns and stopping in yellow boxes at junctions.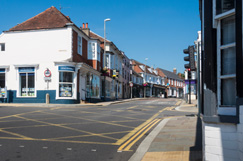 In England, these contraventions are currently largely enforced by the police except in London where councils already have the powers.
In Wales, the devolved Government has offered local authorities the powers on request, with Cardiff the first to take up the opportunity.
The DfT's traffic and technology team lead, Anthony Ferguson, described the Government's announcement, which came as part of its new active travel strategy 'Gear Change', as a 'big moment' but outlined there was a lot of work to do.
He advised against making plans before any elections in 2021 and said the secondary legislation to enact the powers would have to be squeezed into a massive legislative programme.
Speaking to members of the council directors' body ADEPT at its virtual traffic management conference, Mr Ferguson said: 'The [secondary] legislation to implement Part 6 - the hard bit as I would call it - will happen over the next several months probably, by the time we manage to do stakeholder engagement, policy development and think about what the actual legislation will need to look like.
'I think realistically it's spring 2021. It takes a long time [to draft the legislation] as it has to go through four laws before it can be approved.
'At least one of the bits of legislation requires us to go to Parliament and have a debate. Given so much else is going on, I would be surprised if it was going to happen much before Easter and any local authority having an election next year might want to wait until after the election.
'I am hoping before too long the legislation will be there which will allow authorities who want to take the powers to take the powers.'
Mr Ferguson himself joked this might be a 'civil service spring', meaning that the timeline is liable to change. Due to limited resources at the DfT several complicated, technical reforms have often seen lengthy delays in recent years.
Mr Ferguson explained some of the complications around the process and said the closest relation to this process would be civil parking enforcement (CPE).
'There are a lot of moving parts involved. We have to do things about appeals and charges, there are a lot of processes that we have to define. We can look at what has been done in Wales, we can borrow from the CPE regime but there is a lot to develop legally.'
The final powers for councils could even go further than those available in London, Mr Ferguson said and added that the Network Management Duty Guidance that goes with the 2004 Act, could also be updated.