Staffordshire County Council and Amey have partnered with two electric scooter providers to launch micromobility trials as part of the ADEPT Smart Places Live Labs programme.
The Live Labs SIMULATE programme, run by the council and Amey, is designed to test new innovations that can improve mobility and air quality across the county.
Amey described micromobility as a key addition to the future of shared transport services and a means to enable people to connect more easily and sustainably.
The trials with e-scooter providers Ginger and Zwings form part of the trials that were approved by the Department for Transport in July.
Since then, Staffordshire and Amey have been working in collaboration with Stafford and Newcastle-under-Lyme borough councils and Ginger and Zwings to bring more than 150 e-scooters to the streets.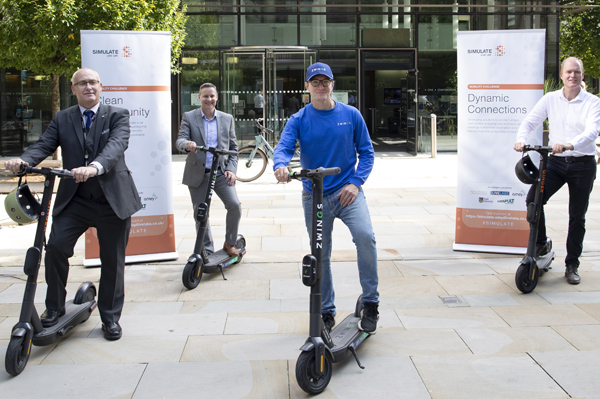 Transport minister Rachel Maclean said: 'The trials of rental e-scooters starting in Staffordshire could offer cleaner, efficient and more affordable travel for local communities.
'Learning from trials already taking place, Staffordshire's will see strict safety measures introduced - including licence verification and responsible parking incentives, while also helping us better understand any impacts on public spaces.'
Speaking before Tuesday's Government u-turn on home working, Staffordshire's cabinet member for highways and transport, David Williams, said: 'Our electric scooter trials bring us an exciting opportunity to explore alternative and green transport options for our communities.
'As people gradually return to their workplace, they will be able to try a new way of travelling which may reduce bus and car use.'
Amey described Staffordshire as a unique location to trial e-scooters due to its rural location and size of its local towns. Ginger will be managing the e-scooters in Stafford, with Zwings responsible for the trial at Newcastle-under-Lyme. Amey said using two providers in different locations will provide valuable data.
ADEPT chief operating officer Hannah Bartram said: 'The e-scooter trials are an exciting part of the Live Labs programme. ADEPT members have been working hard to encourage the safe use of e-scooters and the role they could play as a vital part of everyday journeys – particularly the first mile - last mile between home and transport hubs like bus and train stations.
'They could contribute significantly to changes in short distance travel patterns and our reliance on the car, reducing congestion and helping to tackle climate change.'
Each e-scooter provider will be operating different age restrictions. Those hiring through Ginger need to be aged 18 and have a provisional, full drivers or motorcycle licence. Those hiring through Zwings can do so from the age of 16 but will also need to have a provisional, full drivers or motorcycle licence.