This September marks a step forward in vocational engineering training for young adults, with the launch of the Government's T level qualification.
T Levels are two-year study programmes that follow GCSEs and are equivalent to three A levels.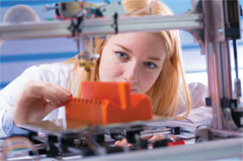 They offer students a mixture of classroom learning and 'on-the-job' experience during an industry placement of at least 315 hours (approximately 45 days), offering a potentially attractive alternative to A Levels and apprenticeships.
The courses have been developed in collaboration with employers and businesses so that the content meets the needs of industry and prepares students for work.
The Technical Qualification (TQ) is the main classroom-based element of the T Level and will see students learning from a curriculum that has been shaped by industry experts.
The outline content for the T Level TQ in construction - the Design, Surveying and Planning for Construction course - has been produced by panels of employers, professional bodies and providers, based on the same standards as those used for apprenticeships.
Employers involved in designing the outline content include Skanska and Morgan Sindall.
Organisations that have worked on the civil engineering content of the course include:
Arup
Balfour Beatty
BAM Nuttall
Cast Consultancy
Chartered Institution of Building Services Engineers
Institution of Civil Engineers
Kier Group
Royal Institution of Chartered Surveyors
Technician Apprenticeship Consortium
The professional bodies worked on behalf of the Engineering Council in order to confirm the qualification contributes to the requirements for professional registration.
There will also be a T Level course in Design and Development for Engineering and Manufacturing, one in Building Services Engineering for Construction; and a Maintenance, Installation and Repair for Engineering and Manufacturing course.
Former chief executive of the Institute of Highway Engineers Richard Hayes is a member of one of Institute for Apprenticeships and Technical Education's (IFATE's) route panels.
There are 15 route panels, which represent the employer voice within IFATE.
Panel members are experts in their industry, and advocates for all apprenticeships and T-Level qualifications.
Mr Hayes said: 'Together, T Levels and apprenticeships will provide a reformed, comprehensive and high-quality technical option. This marks a major change in post-16 education and will seek to rationalise the many current arrangements which can be confusing to many prospective employees and employees.'
There are no special funding arrangements for T levels, but employers are allowed to pay wages during the work placements if they wish.