Transport for London (TfL) has brought together all of the maintenance of roads, tunnels,and assets such as bus stations and streetlights under a new, single programme, which it said will ensure that London's road network is 'more efficient, safer and greener'.
Under the Works for London programme, which is worth up to £1.7bn, Ringway, FM Conway and Tarmac Kier JV - will partner with TfL over the next eight years.
The new programme will oversee the maintenance of TfL's road network, which consists of 5% of London's road space, but carries 30% of the traffic.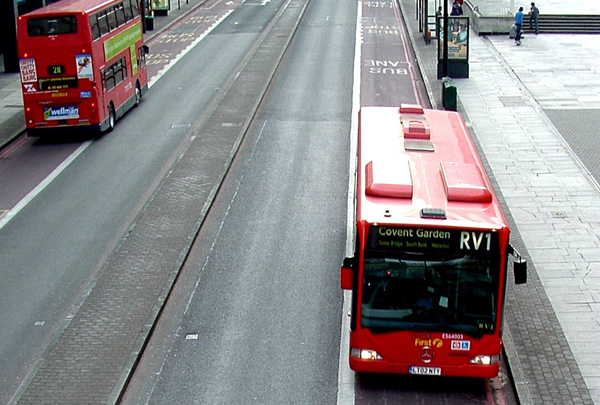 Buses and bus stops on one of TfL's red route roads
The programme includes the maintenance of:
347 bridges on the road network and/including 123 footbridges
31,000 lamp columns and 63,000 other forms of lighting
580km of carriageway, including any trial cycle lanes
43km of permanent protected cycle tracks
21,500 bus stops
420 bus stations and facilities
23,500 trees
more than 6,000 cycle stands
630 LegibleLondon walking maps
nine river piers
Victoria Coach Station
seven Dial-a-Ride depots
Glynn Barton, TfL's director of network management, said: 'We're determined to ensure London has a green recovery from the pandemic and our new Works for London programme will ensure sustainability is at the heart of our roads maintenance, while supporting more walking and cycling everywhere.
'From making our vehicle fleet fully electric to planting more trees, Works for London qill ensure the capital's roads are efficient, green and safe for years to come.'
TfL said its roads, tunnel and bus network are the most intensively used transport network in the UK, with 3.7 billion road journeys and 2.4 billion bus journeys in a normal year.
It said the Works for London programme will ensure that sustainability is at the centre of its road maintenance and projects. New electric Works for London vans will be introduced over the next year, while cargo bikes will also be added to the fleet used to perform inspections, audits and repairs and drones will be used for structural inspections.
TfL said 70% of all street lights it uses will be LED by the end of 2023, with 5,500 new LED streetlights added over the next year.
The Works for London programme will also be used to deliver schemes to boost walking and cycling and green spaces and tree care will also be managed through it, with increased tree planting and improved maintenance of green verges, trees and hedges on London's roads.