Transport for London (TfL) is set to expand its lane rental scheme to cover nearly three quarters of its road network.
It also plans to introduce a new Roadworks Charter for utility companies.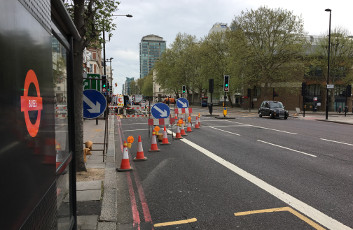 The transport authority said the lane rental scheme encourages companies to plan the works they need to carry out outside of the most sensitive times.
TfL said the scheme allows it to charge utility companies a daily fee for digging up the busiest sections of London's roads at the busiest times. It currently covers 56% of its network of strategic roads, which it plans to increase to 72%.
It said its proposed changes to the scheme are intended to better reflect how London's roads are being used, with more Cycleways and some of London's busiest footways being subject to charges.
It will also reduce both the number of hours when charges apply and the number of locations subject to the highest charges.
Glynn Barton, director of network management, said: 'We're working very closely with the industry on schemes such as Lane Rental and our Roadworks Charter to reduce the impact of roadworks and to keep people moving safely around the capital.'
TfL said the scheme has saved £100m of lost travel time since its introduction in 2012 and that all money raised from the scheme is reinvested in initiatives and innovations designed to reduce disruption caused by roadworks across the capital.
In 2018/19, it spent £6.1m in London's road network using funding raised through the scheme on a projects ranging from trials of a new low-noise, rapid pot hole repair system, to a technology innovation challenge where new products were developed capable of making roadworks smarter and safer.
The proposals include:
increasing the extent of the Lane Rental network so that charges would apply across 72% of the TfL road network
introducing a charge of £350 per day for works that impact on the busiest sections of pavement, mostly outside major transport hubs
reducing the number of locations where the highest charges occur by 10%
reducing the number of hours when charges would apply - incentivising work at quieter times, such as during the evening
offering discounts where companies meet strict safety standards
A consultation on the proposals is open until 8 November.