Transport for London (TfL) is set to take forward plans to lower speed limits on its roads across central London.
The announcement followed a positive response to a public consultation earlier in the year, the transport authority said.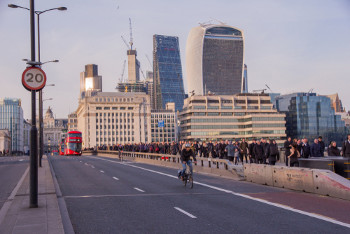 TfL will introduce 20mph speed limits on all its roads in the Congestion Charge Zone by early 2020, which it said will mirror the limits already in place on the majority of London boroughs' roads in the central London area. Work will begin later this year to make 8.9km of TfL roads 20mph.
It is also accelerating proposals to bring 'safer speeds' to some of the highest risk areas in outer London.
Mayor Sadiq Khan said: 'I'm really pleased that Londoners have backed our plans to introduce a 20mph speed limit on TfL roads within the Congestion Charge Zone and at Aldgate Gyratory.
'By also bringing forward plans to lower speed limits in other parts London, we will help protect more people walking and cycling across our city.'
The lower limit in central London will be supported by new 20mph signage and road markings, as well as raised pedestrian crossings in seven locations where a high number of people walk, including near Embankment and Tower Hill Tube stations and outside the Tate Britain.
TfL said it will recalibrate all speed cameras in central London and use mobile speed cameras to ensure that drivers are complying with the limit.
It said there were nearly 2,000 responses to the public consultation, with half of respondents saying the plans would have a positive impact on walking and 31% saying that many more people would choose to walk.
Three in five (59%) thought the proposals would lead to more people cycling and two in five thought the proposals would have a positive impact on public transport.
It said figures from 2016, 2017 and 2018 (provisional) suggest that 128 people were killed in speed-related collisions on London's streets.