The Lower Thames Crossing will now have three lanes in each direction and will nearly double road capacity across the river, Highways England has announced.
The government-owned company has launched a consultation on significantly revised plans for the 14.5 mile link from Gravesham in Kent to Thurrock in Essex via the UK's longest road tunnel.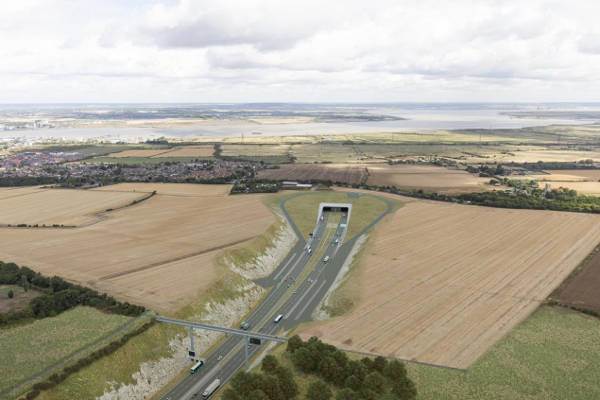 What the southern portal will look like
It described the scheme, now estimated to cost between £4.4bn and £6.2bn, as 'the most ambitious road project since the M25 opened 30 years ago'.
At over 50 feet wide, the 2.4-mile tunnel between Gravesend and Tilbury will be the third largest bored tunnel in the world, Highways England said.
The revised proposals include:
Making the whole route a three-lane dual carriageway to improve traffic-flow;
A new rest and service area to the west of East Tilbury;
A new design for the Tilbury junction, removing the proposed Tilbury link road to reduce traffic on the local road network;
An improved junction with the A2.
Highways England said the new link is expected to reduce traffic at the Dartford Crossing by 22%, with 14 million fewer vehicles using it every year and northbound journey times almost halved.
Transport secretary Chris Grayling said: 'The Lower Thames Crossing will help transform journeys, create new business opportunities in Kent and Essex and unlock productivity across the UK.
'It will also cut congestion at the Dartford Crossing and improve connectivity from our industrial heartland to our ports in the South East.'
Project director Tim Jones said: 'For too long the Dartford Crossing has been the only way to get across the Thames east of London. It is a vital gateway, but carries more traffic than it was ever designed for and drivers there suffer from regular delays, severing communities and holding back economic growth.'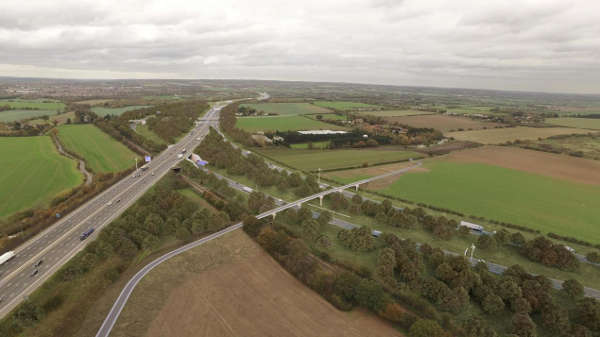 What the junction with the M25 in Essex will look like
Highways England said 'numerous' measures have been included to reduce the impact the new road will have on local communities, including:
Extending the tunnel so the tunnel entrance in Kent is 600 metres further south to reduce the visual impact and protect access to a community church;
Lowering road by five to six metres in places to reduce its visual impact;
Moving the road 80 metres further east where is passes Chadwell St Mary to increase the distance from residential properties.
However, Darren Shirley, chief executive of Campaign for Better Transport, said: 'Building a road through protected countryside is not the right way to address the long standing problems of traffic, much of it lorries, through Kent and Essex.
'A better, and less expensive, solution would be to expand port capacity north of the Thames, improve freight and passenger rail links across the river, and look at measures like distance-based lorry road user charging to better manage traffic.'