Martin Duffy, chair of NYHighways, explains how North Yorkshire's unitary council decision aims to strengthen highways provision in the area.
Things rarely remain static in local government as there is continuous pressure to deliver services that are more effective and efficient, which is what we hope to achieve through innovations in the highways sector.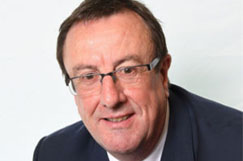 Such reform is being driven by the Government as financial pressures become greater and demand for services increases.
One potential solution offered to local government is reorganisation, which looks to benefit from economies of scale while maintaining a strong focus on the communities it represents.
On 21 July, the Government announced a new unitary authority in North Yorkshire, a proposal put forward by the existing North Yorkshire County Council. This means one council delivering all local authority services, bringing together all the services currently delivered separately by district and borough councils.
But what does this mean for the area's highways?
As chair of NYHighways, North Yorkshire CC's new highways teckal, I see innovation and change as a positive step towards the future. The announcement is an opportunity to strengthen the highways provision for the region's network of almost 5,800 miles of roads.
Nothing will change in the short term – the close relationship between the county council and NYHighways will continue to enable the operation to be efficient and effective, as well as to react quickly and flexibly to changes in these uncertain times.
In the long run, bringing North Yorkshire together will help the area to move forward with greater economies – and for NYHighways, this means we can proceed with increased sustainability, retain full control of the service and embed localism into everything we do.
Subsequently, this will allow for an opportunity for NYHighways to grow organically, returning dividends for the current county council as well as for the eventual new unitary council, while helping to fund local projects.
The importance of teamwork can never be understated – we are stronger together when we are working collaboratively with others in order to achieve a common goal in the most efficient and effective way.
Collaboration is key – as well as working closely with the council, we hope to develop other partnerships and work towards ISO 44001 certification, which will demonstrate that NYHighways' business relationships are truly collaborative.
In addition, NYHighways will see some cultural change to empower our employees to do the right thing while allowing the business to be commercially aware.
Rather than setting quantitative targets, we hope to concentrate on a customer-focused approach so that the residents of North Yorkshire (and beyond) receive the high-quality service they expect from the county's highways operation.
However, the key is getting the balance right between customer focus and commercial viability – I truly believe that performance is important, but it is not the master in this instance.
In conclusion, change may be on its way for the people of North Yorkshire, but in terms of the maintenance of their roads and highways, the positives certainly outweigh the negatives.
They will see a service that prides itself on building further on effectiveness and efficiency, a collaborative approach and a customer-focused outlook; a service that delivers for the region and that is always striving to move forward rather than staying still in an ever-changing world.