Balfour Beatty is in line for a £62m construction contract for the next major section of the £3bn A9 Dualling Programme.
The work forms part of the £96m project to dual 9.5km of the road between Luncarty and Pass of Birnam. Transport Scotland told Highways the value of the Balfour Beatty contract would be £61.77m .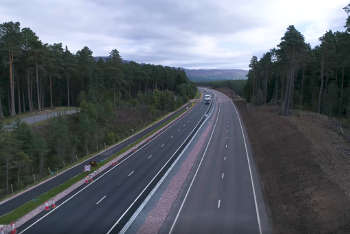 It will be the second construction contract to be awarded as part of the Scottish Government's programme to dual the A9 between Perth and Inverness. The first was the £35m Kincraig to Dalraddy project (pictured) which became fully operational in September 2017.
Michael Matheson cabinet secretary for transport, infrastructure and connectivity, reiterated the Scottish Government's commitment to complete whole project by 2025.
He said: 'This investment will vastly improve connectivity between the Highlands and Islands and Scotland's central belt, delivering far reaching benefits to the wider Scottish economy.'
Hector MacAulay, Balfour Beatty managing director for Scotland, said: 'We look forward to delivering this important infrastructure project which will bring travel and safety improvements to all road users whilst generating significant benefit to the local community and economy.'
The procurement process is subject to a mandatory standstill period. Balfour Beatty was appointed from a shortlist of four bidders which included Dragados SA, Wills Bros. Civil Engineering and a joint venture between Farrans Construction and Roadbridge.
In addition to the construction of 9.5km of new dual-carriageway, the construction of the Luncarty to Pass of Birnam section will involve four new overbridges to maintain local access across the A9, along with a new side road bridge and the widening of one existing underbridge.
Completion of the project will see 15km of continuous dualled carriageway from Inveralmond roundabout in Perth to Pass of Birnam.
Traffex Road Expo Scotland and Bridges Scotland take place at the Royal Highland Centre, Edinburgh, Scotland on 31 October and 1 November 2018. For more information and to register for this FREE event, click here.