Councils have been urged to start developing local energy plans bringing transport and energy strategies together to support the expansion of electric vehicles (EVs).
Jonathan Murray, policy and operations director for the Low Carbon Vehicle Partnership (LCVP) warned that councils have to start preparing a wide network of public charging points (PCP) for EVs.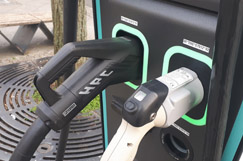 There are currently 34,363 PCP connections across 12,444 locations in the UK, Mr Murray said.
By 2035, the Government hopes to have banned the sale of new petrol, diesel or hybrid cars and around the same time forecasts suggest the UK could need over 500,000 PCPs - eight per 1,000 people.
Mr Murray said: 'As we move beyond a niche market we need to recognise that PCPs will play a very big role in charging vehicles. PCPs provide invaluable additional charging to support home and business charging and the opportunity to extend journeys.
'A strategic whole system approach to local area energy planning has been proven to be beneficial and cost effective. The electric network could be a constraint on charging. It is vital councils consult with DNOs (distribution network operators).
'Transport and energy planning need to be brought together at the local level. Transport planners need to work with DNOs and link up transport and energy network reinforcement planning.'
Mr Murray added: 'Fortunately, we are starting to see new tools being brought forward by network operators. Early next year we are expecting to see electricity network operators start to make available heat maps where we can identify in detail where there is headroom on the eletric network to install charge points.'
He also highlighted that London had done a significant job in terms of mapping out demand and laying it out over the existng infrastructure and how that might be developed further both spatially and temporally - what time and where we charge.
Marrying up these factors is not a simple issue, he suggested.
'One thing to bear in mind is the range of road users out there. The types of vehicle and how they operate will have different implications on the infrastructure that is needed to support these vehicles from slow to rapid charging.'
There is also the significant difficulty of connecting to the grid, which can be a lengthy and costly process.
'People assume this is an easy process. It is not, it needs to be planned,' Mr Murray said.
'There will be significant costs and timelines incorporated into that. The cost of making a connection range from small charge points where we are talking £2,000- £3,000 for a few months, and large connections for six months which could cost millions of pounds.'
The European Commission currently recommends that as a target for Europe, there should be approximately 10 EVs per charge point, roughly where the UK is.
Britain's electricity network is undergoing a transformation, which should help the move to more low carbon energy and help provide the resilience needed to cope with EVs, Mr Murray said.
There is a greater renewable and dispersed power generation, decarbonisation of transport and heat and the develop of smart grid technology and time of use tariffs, which will be important for smart charging to prevent drivers overwhelming the grid at peak times.
There is also new regulatory regime, RIIO-2, coming. The second round of RIIO price controls begins in 2021 for DNOs will begin in 2023.
The price controls are designed to 'give due attention to mitigating the impact of networks on the environment' and esnure that networks 'play a full role in addressing consumer vulnerability issues'.
Set up in 2003 as a public private partnership initiative between government and industry, the LCVP aims to tackle climate change from road transport. It works with local authorities and network operators.