Two district councils have written to the new transport secretary objecting to the multi-billion pound Cambridge to Oxford Expressway scheme and calling for the money to be spent on rail instead.
The £3.5bn project is one of the key schemes in Highways England's portfolio for the next decade and has also been supported by regional transport body, England's Economic Heartland.
EEH did however write to the Department for Transport (DfT) in January to say it had concerns the approach being taken to the expressway was in 'isolation' to wider considerations, in particular the way the section between Oxford and Milton Keynes was being planned.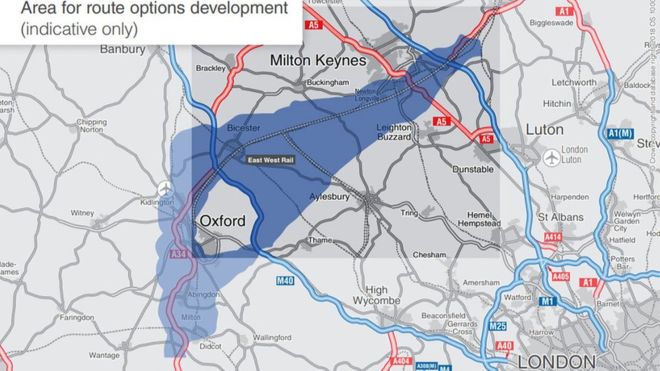 South Oxfordshire District Council and Vale of White Horse District Council wrote to key figures including the new transport secretary Grant Shapps to raise environmental concerns and issues around the business case.
South Oxfordshire council leader Cllr Sue Cooper wrote: 'The proposed Expressway will have significant adverse impacts on Oxfordshire: it will create a major source of air and noise pollution, destroy farmland and habitats, increase CO2 emissions and bring more traffic on to the county's roads.
'South Oxfordshire, therefore, opposes this project in any guise - including the potential expansion of existing or new ( the HIF-funded Thames crossing etc) roads to form any part of it.'
The council leader went on to say it was fully supportive of the east west rail upgrades.
The Vale of White Horse, deputy leader Cllr Debby Hallett, wrote: 'We remain gravely disappointed by the lack of public consultation and engagement relating to the expressway. The council particularly notes there has been a lack of clarity from HM government regarding the need and desirability of this project and, therefore, is unconvinced that such a proposal is the most effective way to enhance connectivity across the [Cambridge to Oxford] Arc.'
It also cited environmental concerns and said the council 'therefore requests that the expressway project is abandoned 'and that the estimated £3bn- £7bn cost of the scheme is invested into completing and enhancing phase 3 of the east-west rail link, cycling infrastructure and public transport.
It added that is also wants to see 'a commitment that all new proposed projects and schemes have environmental assessments published from the beginning and are subject to a comprehensive process of public consultation'.
When ministers announced the project it was described as filling 'a major gap in the national road network' that would 'work together with the proposed East West Rail link to revolutionise east-west connectivity'.