The UK Roads Board is carrying out an investigation into flooding and drainage on the network after a Department for Transport (DfT) official said there were concerns about the level of understanding in this area.
The board has agreed to consider how to address the issue and plans to establish terms of reference 'for work on flooding considering representation and potential funding support'.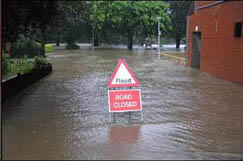 DfT roads official Gary Kemp told the board at a recent meeting that the department was concerned about the level of understanding of drainage and the condition of related assets.
Highways understands that a separate roads drainage group or even board could be under consideration.
DfT representatives also confirmed a recent Highways magazine exclusive on the self-assessment questionnaire.
As Highways revealed, there will be new non-scoring questions this year around biodiversity and sustainability but the board also revealed that it is 'the intention for these to be scored questions from next year onwards'.
Members of the board, which includes senior public sector and highway authority figures from across the UK, said flooding was a serious issue made worse by funding cuts, climate change and ageing infrastructure.
Head of asset management and procurement at Transport Scotland, Donald Morrison, highlighted that the transport authority had been carrying out a review into flooding and established an internal vulnerable locations group to look into it and other disruptions.
Mr Morrison argued that an inventory of the drainage assets was one area to look at but reviewing where flooding occurs would be more pragmatic in the risk-management process - the priority-based approach dealing with the high-risk sites.
Transport Scotland had produced a disruption risk-assessment tool he revealed, and shared it through the supply-chain to record both the location and timing of flood instances.
Once operating companies provide the details of remedy measures at the high-risk sites, Transport Scotland would be able to identify the budget required, Mr Morrison told board members.