A major contractor and supplier has called for new thinking in road construction after a survey showed people believe traffic levels are almost back to pre-pandemic levels across the UK.
Nearly two thirds of motorists are making the same number of car journeys (or more) than prior to lockdown, and 41% are now travelling far more than they did a few months ago.
Tarmac pointed out that while roadworks are essential to the network, they also add to the frustration of traffic delays, with 73% of those surveyed saying that their travel had been impacted by roadworks and almost a quarter having been stationary for up to 20 minutes per journey since lockdown restrictions were lifted.
The survey also revealed that 71% of drivers believe traffic levels are the same or higher than pre-lockdown levels.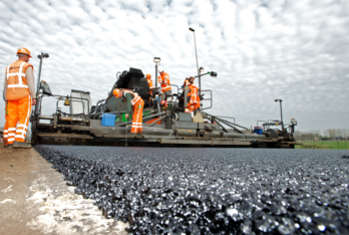 Tarmac said it is encouraging local authorities to embrace new thinking in road building and repair through the increased use of warm mix asphalt (WMA) to help get traffic moving more quickly.
It wants councils to make WMA the default method of surfacing roads.
National technical director Brian Kent said: 'As we begin our road to recovery from the COVID-19 pandemic, it has never been more important for the construction industry to work together with local authorities and councils to adopt more sustainable ways of working.
'With carbon reduction at the centre of the Government's Construction Strategy and many local authorities working to achieve net zero targets by 2030, warm mix asphalt is a proven materials technology that benefits road users, residents living around areas of roadworks, highways workforce who spend less time exposed to traffic during roadworks, and the environment.'
WMA involves laying asphalt at lower temperatures than traditional mixes, which means it requires less cooling time between courses, increasing the amount of material that can be laid in a standard shift.
It sets also sets quicker, enabling roads to re-open more quickly, and is more sustainable to produce.
A report last year from the All Party Parliamentary Group for Highways found that although WMA could save 61,000 tonnes of CO2 per year nationally, its use in the UK stood at less than 4%, lagging behind the US (40%) and France (15%).
Read more: We need a collective change of mindset
Image shows Porous Asphalt section placed by Royal BAM Group. This half-warm asphalt, 'LEAB', has equal behaviour properties as Hot Mix Asphalt without recycled content yet it is mixed at 105°C and contains 50% reclaimed asphalt.