The widow of a driver killed on a smart motorway has instructed lawyers to begin work on a legal challenge calling for them to be scrapped.
Jason Mercer was one of two men killed after being knocked down by a HGV on all lane running (ALR) stretch of the M1 in South Yorkshire.
Shortly before the fatal incident, Mr Mercer and Alexandru Murgreanu had been involved in a minor collision and pulled over 'as far as they could' in the absence of a hard shoulder to exchange details.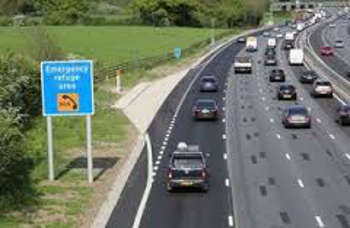 His wife Claire Mercer, has now instructed solicitors Irwin Mitchell to investigate bringing a legal case against Highways England calling for the use of smart motorways including ALR schemes to be halted.
Irwin Mitchell said it is preparing detailed evidence and aims to officially commence the legal process in the coming weeks.
Solicitor Helen Smith said: 'Through our initial investigations and the increasing amount of families which have been torn apart because of fatalities on smart motorways, it is clear that a full and urgent review of their use needs to be completed.
'We are determined to do everything we can to support Claire and other families who have been affected by the use of smart motorways. We hope that people are able to back her campaign as she looks to take this legal action forward.'
Ms Mercer said: 'Because this section of motorway is ALR there was no hard shoulder and they were not to know the nearest emergency refuge area was out of sight, a mile away.
'The technology provided in this stretch of motorway and indeed in over 80% of all smart motorways is not capable of detecting when only a few cars stop in live lanes, so the lane wasn't closed until six minutes after Jason and Alexandru had been knocked down.'
Ms Mercer has launched a crowdfunding appeal as part of her campaign and is hoping to raise £20,000 to support the legal challenge.
She added: 'Jason was an amazing, multi-faceted man who stood out in a crowd. He believed in equality and he fought to defend his and other rights.
'The only thing that helps us while we try to come to terms with this loss, is trying to stop the same happening to others.'
In a parliamentary debate on Wednesday, Ms Mercer's MP, Sarah Champion, called for existing schemes to revert to traditional motorways, 'until the obvious and intrinsic risks of removing the hard shoulder are addressed'.
She said: 'I cannot bring Jason Mercer back to Claire. But it is in the minister's gift to stop more deaths.'