Leeds City Council is calling for volunteers to help restore trees removed under a major road improvement project.
It said that thousands of trees are being planted as the first phase of the £116m East Leeds Orbital Route (ELOR) project makes use of 'peak planting time'.
Following work on junctions on the Outer Ring Road which has seen some trees being taken out, over 4,000 extra trees are being planted to create a new wet woodland enhance the area at the Roundhay Park Lane junction (pictured below).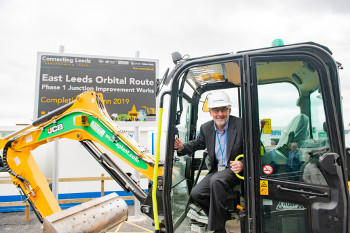 Cllr Richard Lewis (pictured, right), the council's executive member for transport, said: 'ELOR is providing significant future benefits for people in Leeds, not just through better travel, but also improved environment. This new woodland will provide a range of ecological and environmental benefits, including management of rainwater run-off, more habitats for wildlife to thrive and helping management of vehicle emissions.
'We are delighted to have two community tree planting days planned for Wednesday 13th March and Saturday 16th March 2019 which we'd like volunteers to come along to and join us as we create a lasting environmentally friendly area.'
The ELOR is the largest road scheme in the city since the 1970s and comes under the East Leeds Extension (ELE) programme.
The first two phases of the project include implementing improvements to a number of existing Outer Ring Road junctions, as well as developing the design for the main ELOR – a 7.5km dual carriageway that will connect the Outer Ring Road at Red Hall around the East side of Leeds joining a new link road and connecting into junction 46 of the M1.
Last year the council awarded Balfour Beatty a contract to deliver the first two phases after Carillion, which had been lined up for the job, went bust.
Anyone interested in participating in the tree planting can find out more details at the ELOR website, where they can sign up for further information and updates about the project.