A £120m plan has been announced to demolish Liverpool's dilapidated Queens Drive Flyover and replace it with a new dual lane tunnel and a major redesign of the city's busiest junction.
The draft proposal would see the existing signalised Rocket Junction reconfigured into a 'hamburger' type layout, where the main road passes through the centre of the roundabout.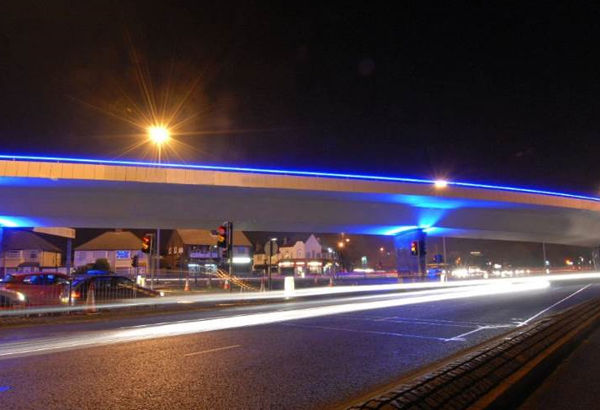 It would also have a traffic signal controlled gyratory with provision for through traffic travelling north/south on Queens Drive.
The Rocket Junction is the busiest in Liverpool city region with over 100,000 vehicles travelling through it every day, as it connects the start of the M62 with the A5080 and the A5058 Queens Drive.
The £120m proposal was included in Transport for the North's wider £700m bid to the Department for Transport's National Roads Fund, which includes £3.5bn funding for the major road network and large local major schemes from 2020-2025.
The full list of schemes will not be released by TfN until next week.
The bid to the DfT is for £92m, with Liverpool City Council contributing the remainder via its £500m Better Roads programme
All sub-national transport bodies were due to submit their bids in this summer. TfN's submission follows England's Economic Heartland and Transport for the South East announced their priority schemes recently.
Mayor of Liverpool Joe Anderson said: 'The Rocket is not fit for purpose - it can no longer cope with the traffic coming into the city via the M62 and as welcome to Liverpool is a hugely negative experience.
'As we all know, the junction is flawed as the motorway should have come all the way to the edge of the city centre but stopped at the Queens Drive ring road instead.
'This scheme needs a huge amount of development and consultation to get it to the stage of delivering it but if the government is serious about investing in the Northern Powerhouse, this is a scheme that will certainly unleash huge benefits for all concerned be they commuters, businesses, residents and visitors to our city.'
Peter Molyneux, major roads director at Transport for the North, said: 'As part of our pan-Northern bid for £700m of investment in our roads, we're pleased to put forward for funding the upgrade scheme for the Rocket Junction, working in partnership with Liverpool City Council.
'As the busiest junction in Liverpool, with more than 100,000 vehicles travelling through it each day, this is a pivotal project that will have wide-reaching benefits for people and businesses.
'As well as bringing journey times down locally it will also have a positive impact on the wider motorway network and support the city's ambitious growth plans.'
Out with the old in with the new?
Last year structural issues were discovered in the Queens Drive Viaduct. Engineers from Amey found that tendons and ducts were corroded and signs of structural distress including cracking.
Strengthening the structures was considered to not be feasible and the cost of replacing them could be up to £60m.
The junction is currently functioning at full capacity in peak hours.
If approved, it is anticipated works for the scheme would begin in 2023.
Predicted impact:
The Rocket Junction upgrade will support SMART objectives which are outcome-orientated (i.e. Specific, Measurable, Achievable, Realistic and Time-limited), including:
15% decrease in road users' travel time through Rocket Junction by 2030
30% increase in weekday peak-hour traffic flow volume through Rocket Junction, by 2030, to relieve more congested corridors
20% decrease in weekday peak-hour traffic flow volume through parallel route junctions by 2030
10% decrease in personal injury accidents within 200m from Rocket Junction by 2030
10% decrease in road users' travel time variability through Rocket Junction by 2030
10% decrease in greenhouse gas / CO2 within 500m from Rocket Junction by 2030
50% increase in weekday / weekend daily active pedestrian and cyclist movement volume through / across Rocket Junction by 2030, to reflect easier access and crossing facilities.