Highways England has £20m up for grabs for UK organisations with projects that could change the way UK roads are designed, managed and used.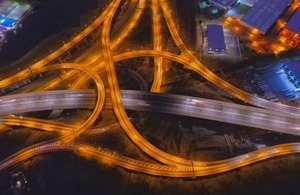 In partnership with Innovate UK, Highways England is running two parallel competitions via the Small Business Research Initiative (SBRI).
The competition bids cover at least one of the following six themes:
design, construction and maintenance
connected and autonomous vehicles
customer mobility
energy and the environment
operations - from customer service and traffic management, to roadworks and incident and severe weather response
air quality - particularly targeting oxides of nitrogen and other air pollutants
Feasibility studies
There is an £8m fund for feasibility studies covering ideas that are unproven and at a low technology readiness level.
In phase 1, projects can last up to two months with total costs of up to £75,000 including VAT.
In Phase 2, the schemes can last up to nine months and have costs of up to £1m including VAT.
You can also get more details and apply here.
Feasibility schemes
There is also a £12m pot for feasibility projects that have already been proven and are at a mid to high technology readiness level. These schemes should be ready for imminent on-road testing and deployment, having met necessary safety assurances.
Projects are expected to start by September 2019 and last up to 12 months. The total eligible project costs can be up to £1m including VAT.
You can get more details and apply here.
Competition information:
Both competitions open on 11 February, and the deadlines are at midday on 1 May 2019. Organisations of any size are eligible to lead a project, working alone or collaborating with others
A webinar briefing will be held on 14 February for applicants to find out more about the competition
Technology readiness levels:
TRL 1 – basic principles observed
TRL 2 – technology concept formulated
TRL 3 – experimental proof of concept
TRL 4 – technology validated in lab
TRL 5 – technology validated in relevant environment (industrially relevant environment in the case of key enabling technologies)
TRL 6 – technology demonstrated in relevant environment (industrially relevant environment in the case of key enabling technologies)
TRL 7 – system prototype demonstration in operational environment
TRL 8 – system complete and qualified
TRL 9 – actual system proven in operational environment (competitive manufacturing in the case of key enabling technologies; or in space)