Nine out of 10 drivers believe roads are worse now than 10 years ago, according to a study by the AA.
In a survey of more than 17,500 AA members, 88% said roads have deteriorated over the last decade, with two thirds (67%) saying they have 'considerably deteriorated'.
Two in five (42%) drivers rated residential streets across the country as poor in March 2018, compared to only a third of drivers (34%) 12 months before.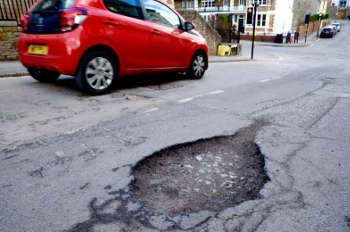 The AA said that, despite the Government and local councils saying they are doing more to repair roads, drivers believe Britain's roads are crumbling.
It said it is 'piling on pressure to get the UK's roads fixed and streets resurfaced'.
It has launched a #FlagitFunditFillit campaign, which calls on drivers to safely photograph potholes and send the pictures to the responsibly highway authority and the Department for Transport via social media 'to show the scale of the pothole problem'.
AA president Edmund King, said: 'The AA postbag is bursting at the seams with drivers and cyclists bemoaning the state of roads across the UK.
'It is clear that despite all the talk from central and local government, not enough is being done to fix our increasingly dangerous streets.
'The current lack of proper investment on local roads means that highway authorities are doing little more than papering over the cracks.
'The transport secretary has admitted that for over three decades, roads investment hasn't been up to scratch. We urge him to convince the Treasury to allow more funds for roads maintenance in what is fast becoming a national emergency.'
Motorways were rated in the survey as the roads kept in the best overall condition, but the AA said there are still some concerns about the integrity of the road surface.