WJ Group and BEAR Scotland have announced a strategic partnership on the Scottish Trunk Road Network Management Contract for the South East.
The partnership, which was struck for an undisclosed fee, covers the delivery of all road marking services, including permanent and temporary markings, high friction surfacing and demarcation solutions.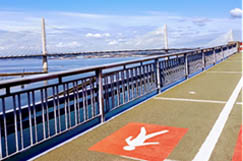 Transport Scotland appointed BEAR Scotland as the operating company for the region, under a contract that started last August and runs until at least 2028 with a potential extension.
The South East region covers approximately 314 miles of some of the busiest sections of road in Scotland, from the central belt through to the Scottish Borders. It now also includes the historic Forth Road Bridge and the Queensferry Crossing, which were previously delivered under a separate contract by Amey.
WJ Scotland operations manager Brian Smith said: 'It's fantastic to be working with BEAR Scotland in the South East Unit. We've created a great relationship working with them in the North and we know they have a real focus on continual improvement to ensure an exceptional service which really prioritises the customer.
'This approach mirrors our own and it has helped us establish synergies over many years and we know we can support their objectives on the South East network.'
BEAR Scotland currently has responsibility for trunk roads in the North East and North West of Scotland but will have to give up one of these contracts under the rules for the latest round of procurement for the northern regions, which began last autumn. The new rules stipulate that a contractor can only operate a maximum of one contract in the North and one contract in the South.
WJ has been working with BEAR Scotland on the North West and North East regions since 2013 and 2014 respectively.
The road marking specialist said the pair had developed 'a collaborative relationship with efficient and effective operational delivery of high-performance road marking services'.
This extended partnership means that WJ and BEAR Scotland are currently working together on over 1,500 miles of Scotland's trunk road network, ensuring road marking standards that meet or exceed the requirements of CS126, 'Inspection and assessment of road markings and road studs'.
BEAR Scotland commercial director Mark Godsell said: 'WJ have been a great asset on both our North West and North East contracts with their exceptional delivery capabilities and keen focus on innovation.
'They have helped us implement new ideas and products on to the Scottish network. We look forward to continuing this success in the South East as we work together to raise standards and a provide a safer road network for all road users across Scotland.'
In the northern regions WJ recently delivered more than 217,000 metres of 'Weatherline Plus' high performance road markings over 1350 Solarlite road studs.
Weatherline Plus is a raised profile marking and part of WJ's award-winning range of high-performance products. It exhibits enhanced retroreflectivity in wet and dry conditions, superior skid resistance, great durability with an expected five-year functional life when applied in good conditions.
The SolarLite Road Studs are installed in high-risk locations and provide increased visibility, achieving 900m forward visibility compared with 90m for standard road studs, increasing reaction time ten-fold.
WJ has already started to install these products on the South East contract for BEAR.