Business standards company BSI has revised its guidance on asphalt, with changes to help prevent the low temperature cracking of road surfaces that can cause potholes.
It said that with 24,000 miles of British road needing essential maintenance according to the latest ALARM survey, the revised Published Document – PD 6692 – provides 'UK-centric' guidance to better meet the road maintenance challenges in Britain.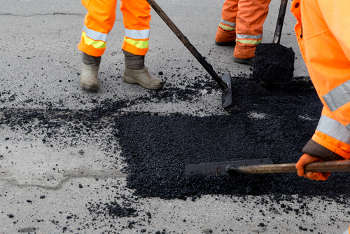 The document was developed to support public sector highway authorities and private infrastructure owners. BSI said it will also be of benefit more widely to asset managers, consultant engineers, architects, test houses, test equipment and manufacturers and suppliers, and research laboratories.
Ant Burd, head of built environment at BSI, said: 'PD 6692 was revised to better address the unique qualities of Britain's almost 250,000 miles of road.
'After a particularly harsh winter, which has taken its toll on our nation's highways, this Published Document will be welcomed by highway maintenance crews, local councils, and road users alike.'
PD 6692 Asphalt – Guidance on the use of BS EN 12697 'Bituminous mixtures – Test methods for hot mix asphalt', provides more detailed guidance for each of the test methods most applicable for use in the UK.
Specific changes in the test methods relate to:
Crack propagation
Saturation ageing tensile stiffness
Low temperature cracking and properties
Ash content of natural asphalts
Interlaying bonding friction after polishing
Friction after polishing
Resistance to scuffing
Oxidative aging
Cohesion increased by spreadability