Boris Johnson has pledged to 'build, build, build' under a 'new deal' that will accelerate roads and wider infrastructure spending and bring forward an initial £5bn for the first stage of COVID-19 recovery.
In a flagship speech today, the prime minister promised no return to austerity but a commitment to 'build back better, build back greener, build back faster'.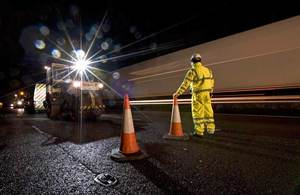 So far Mr Johnson has limited himself to an initial £5bn investment, which is not new money but brought forward from a manifesto commitment.
However, there would also be the 'Project Speed' taskforce, combining Number 10 and the Treasury, to reform planning rules and increase productivity and efficiency in infrastructure delivery.
Of the early £5bn, around £100m will be put towards 29 road schemes and projects ranging from fixing deteriorating roads and flood mitigation measures, through to repairing bridges that are part of local highway key routes.
Projects include:
£4.9m to repair two bridges in Sandwell to improve safety for nearby key roads in the West Midlands that will be used heavily during the 2022 Commonwealth Games
£5m each for plans to make the key route network in Liverpool more resilient, to begin further maintenance on the Swanswell Viaduct in Coventry, and for road maintenance on the Tadcaster Road in York
£4.9m to replace poor-quality footways for pedestrians in Sheffield, as part of the Government's commitment to improve people's access to 'active travel'
boosting the quality of the A15, a key route providing a vital connection through the Humber region, with over £4.5m of investment
Transport secretary Grant Shapps said: 'As the country begins the recovery from COVID-19, we need to get on the front foot and invest in infrastructure in every region to reignite the economy, helping better connect people with opportunities in the future.
'By investing £100m in local roads and reaffirming our commitment to better connecting communities, we are not just talking about levelling up – but making it happen.'
As part of the programme, there would also be £900m for a range of 'shovel ready' local growth projects in England over this year and next, as well as a review of the road, sea and air connections between the four nations of the UK.
In addition, £96m will be allocated to town centres and high streets under the Towns Fund this year. This will provide all 101 towns selected for town deals with £500k-£1m to spend on projects such as improvements to parks, high streets, and transport.
And around £10m would be put towards development work to unblock the Manchester rail bottleneck, which will begin this year.