DELTA BLOC UK's MD Tony Walker tells Highways about how his leading road barrier company is part of a new era of modular off-site construction and supply chain innovation helping major clients like Highways England meet their objectives.
The introduction of standardised, modularised, and prefabricated components through off-site construction is expected to grow, which has certainly proven to be the case with DELTA BLOC UK a manufacturer, supplier and installer of precast concrete road safety barrier systems.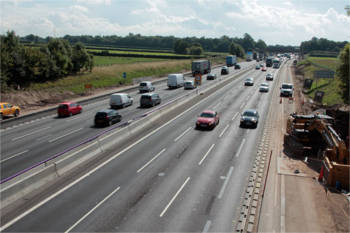 Following a tough start to UK business in 2010, we have seen a significant increase in both sales and general interest in our precast concrete barrier systems over the last three years as the market has slowly adjusted to new concepts and ideas
Our recent involvement with installations on a number of projects in the Highways England Smart Motorway programme was a key milestone for us because it demonstrates very clearly that the market place now sees precast concrete as a very credible alternative to the more commonly used slipform methods of construction.
DELTA BLOC products are manufactured off-site and the modular lean construction process means a quick and efficient on-site operation, where the quality of the product can be guaranteed first time. These are both key factors, which could help achieve Highways England's goal of reduced delivery and installation times.
There are no issues to overcome with supply of ready mixed concrete and inclement weather, both of which can be very problematic when carrying out slipform operations and it is for these reasons that many of Highways England's delivery partners are now looking more favourably at precast barrier solutions for the central reserve.
For many contractors, to meet their construction programme, certainty of delivery all year round is a key driver. The modular, off-site construction approach also means less waste is generated in production providing a more sustainable, environmentally friendly product.
Delivery truck movements are also halved when installing the DELTA BLOC systems compared to the number of concrete truck mixers attending site for the same length of slipform barrier. This reduces traffic entering and exiting the works zone, improving safety, reducing CO² emissions, and keeps the network flowing, further demonstrating the positive benefits of the precast installation process.
The use of DELTA BLOC products on Highways England Smart Motorway projects shows that clients now have the confidence not only in the product, but also in the company to deliver schemes of this magnitude. CE marked products produced in a factory environment are delivered and installed on-site by competent and trained installers, providing maximum protection for road users, while minimising disruption.
Additionally, it also shows that DELTA BLOC UK can provide the full range of services from technical assistance up-front through to completion.
Increased productivity of precast concrete barrier systems over slipform barrier solutions;
Up to five times faster installation than in-situ barrier systems = reduced programme
Ability to change work fronts with minimal impact if critical path issues are identified at structures or there are breakdowns = more flexibility
No weather dependence allowing installation in cold or wet conditions = reduced risk
Freestanding systems can be connected to form any emergency crossing points required in the barrier chain = full compatibility
Easily connected to adjacent steel barrier systems through DELTA BLOC transition units
Useable as a temporary barrier in traffic management before incorporation into permanent works = reduced costs and minimised disruption in maintenance
Should a vehicle impact result in a need for replacement of barrier, pre-cast sections can be replaced in one shift as opposed to multiple shifts needed for in-situ repair = reduced costs, quicker, safer, less disruption
Pre-cast units can be easily lifted out to create a temporary maintenance crossover
Public safety – Improving travelling public safety and minimising disruption through fewer movements into and out of site
Site safety – 50% reduction in barrier installation personnel exposed to traffic risk
Better quality – Certainty of quality for materials, finishes and fit prefabricated in factory controlled conditions = right first time
Sustainability: No flushing / cleaning or waste concrete = reduced site waste
Precast concrete vehicle restraint systems can provide measurable benefits to all stakeholders and DELTA BLOC UK hope that their recent successes will provide further evidence to Highways England and their delivery partners that precast solutions can be advantageous when delivering Strategic Road Network projects.