The Welsh Government expects to be liable for £116.2m of additional costs for the A465 Heads of the Valleys dualling between Gilwern and Brynmawr, equating to 53% of the original £220m cost estimate.
This figure excludes potential costs the Government expects its contractor, Costain, to cover.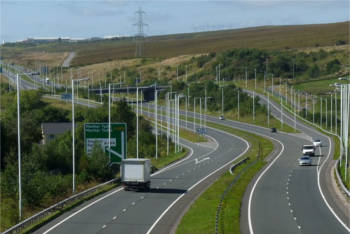 The two-year dispute between the parties is continuing, with the Government forecasting a £54.9m overspend.
Now the updated Wales Infrastructure Investment Plan (WIIP) reveals that 'total scheme value' and 'Welsh Government support' are both estimated at £336.2m. Scheme completion is expected next year.
A Government spokesman said £336.2m was the Government's 'current projection of our liabilities for the cost over-run'.
He added: 'Welsh Government has not accepted liability for the entire cost increase and the discussions with Costain remain ongoing.'
Dowlais to Hirwaun progress
The WIIP confirms the Government's intention to dual Dowlais to Hirwaun, the A465's last section of three-lane single carriageway.
The interim outline business case in May 2017 estimated capital construction costs at £494.2m, excluding VAT, similar to the £500m estimate in the initial procurement notice last year. The updated WIIP estimates total scheme value at £440m, excluding VAT.
Asked to explain the lower cost estimate, the spokesman said: 'The scheme scope remains as per the project that was taken through the public inquiry in 2018 on which the £440m was based. Previous figures indicate the scale of the project and are not intended to outline the actual project costs.'
The WIIP gives start and completion dates of 2019 and 2024 on one page, but 2020 and 2023 on the following page. Ministers will decide whether to commence construction when the procurement process is completed, said the spokesman.
The 10-mile dualling will be privately financed, and the Government will make annual service payments over the 30-year concession period.
The WIIP shows Welsh Government support being £440m, the same as the scheme value rather than the total annual payments.
Asked to explain this, the spokesman said: 'The final cost covered by the Annual Service Payment will be based on the final construction cost, operating and lifecycle costs for the road along with financing costs.'