The Government is giving councils close to £1m to use connected vehicles to help manage and plan road maintenance works more efficiently.
The £900,000 will help provide data to enable them to repair potholes before they occur 'as well as maintain their other assets more effectively'.
Blackpool Council has been given £100,000 to lead on a digital inspector scheme with eight councils. This will see high definition cameras mounted on vehicles to collect data on road and path conditions, which is then analysed by computers to highlight where roads are deteriorating.
The City of York will also get £72,000 to use a similar system to build on its pothole spotter trial, which uses bin lorries (pictured), buses and bicycles.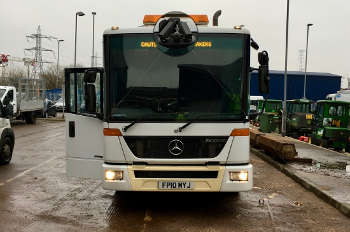 Swindon BC will trial the use of smartphone sensors to collate road conditions and Essex CC will work with Daimler to use information collected by its cars. Derby City Council and Oxfordshire CC will use connected vehicles to collect data on the condition of road signs.
Transport for the West Midlands, West Sussex CC, Buckinghamshire CC, Croydon Council and Southampton City Council have also been awarded funding for road condition monitoring innovations.
Westminster City Council will trial the use of cameras to provide real-time updates so people can locate parking spaces easier.
The Department for Transport is also providing £30,000 to council directors' body ADEPT 'to work on technological and innovative improvements to future-proof the local road network'.
It follows a report from ADEPT last autumn, which warned that local authorities need to take a proactive approach to avoid falling behind as digital innovation is applied on the strategic road network (SRN) and in large smart cities.