The Department for Transport and Highways England appear to have dropped at least two previously trumpeted major schemes in the second Road Investment Strategy (RIS 2).
The £3.5bn Cambridge to Oxford Expressway has been 'paused', while a wider spatial strategy is considered for the region, particularly in light of congestion around Milton Keynes.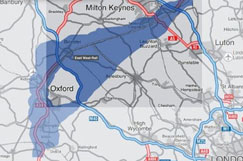 The RIS 2 document states: 'We are now pausing further development of the scheme while we undertake further work on other potential road projects that could support the Government's ambition for the Oxford-Cambridge Arc, and benefit people who live and work there, including exploring opportunities to alleviate congestion around the Arc's major economic centres such as Milton Keynes.
'We will work with the Ministry of Housing, Communities and Local Government and local partners on the proposed Spatial Framework to identify the role transport can play alongside the proposed economic and housing growth ambitions for the Oxford-Cambridge Arc.'
The scheme had previously been celebrated by the Government with former roads minister Jesse Norman announcing a preferred route (pictured) in 2018.
However, it has since come under local and regional criticism. South Oxfordshire District Council and Vale of White Horse District Council wrote to transport secretary Grant Shapps last year to raise environmental concerns and issues around the business case.
And the sub-national transport body for the region, England's Economic Heartland, said it had concerns the approach being taken to the expressway was in 'isolation' to wider considerations, in particular the way the section between Oxford and Milton Keynes was being planned.
Highways England said it was 'developing proposals for a new road link between the M40 at Oxford and the M1 at Milton' instead.
Elsewhere plans for a Trans-Pennine Tunnel, which had been investigated but always seemed likely to be too costly and complicated, appear to have been dropped.
Under a 'Trans-Pennine Tunnel' section of the RIS 2 document, Highways England does not commit to the scheme and instead pledge to look at high-quality but 'cost effective connections'.
'Manchester and Sheffield are not connected directly by a high-quality road. Work during RIS1 has shown that traffic between the two cities is one fifth of that between Manchester and Leeds. However, the presence of the Peak District National Park means that any action to correct this must take full account of potential environmental consequences,' it says.
'We will work in partnership with Transport for the North, local highways and national park authorities to finalise whether high-quality but cost effective connections can provide an appropriate balance between the levelling up of the economy and the environmental impacts on a valued and protected landscape.'