The Department for Transport (DfT) is working to develop a 'sector deal' including pin-pointing partnerships with industry on sector specific issues such as skills, supplies, R&D, collaboration and efficiencies.
Top officials aim to have the work ready in time for the expected Spending Review next year, a delayed announcement on medium-term funding positions, which due to the Brexit and parliamentary confusion was replaced this month with a one-year spending round stop gap.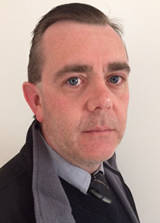 Steve Berry (pictured speaking at Cold Comfort), head of local roads maintenance at the DfT, told the Local Council Roads Innovation Group (LCRIG) this month that 'we need a sector deal' and called for stakeholders to work with the DfT on the deal', particularly the Highways Term Maintenance Association (HTMA).
He said: 'It is not easy. It is quite complex, there is a lot of work we have to do. Of course that means we have to work closely with colleagues across the sector. My own is view is that we need to work with private sector and highways authorities to actually gear up for what a sector deal means for everyone.
'That is a piece of work we are starting in the department. We are going to be working very closely with private sector and local authority partners.
'We will want to be working very closely with HTMA to align what a sector deal means for us. This work is very, very important. For private sector and public sector too. So please we will want to come and work with you on this.'
Challenge and Pinch Point
Mr Berry also discussed the nearly £350m for councils to improve local roads announced this summer under the Local Highways Maintenance Challenge Fund, £198m available for 2019/20 and 2020/21 and the Pinch Point Fund, a total of £150m available in 2021/22 and 2022/23.
He apologised for the competitive nature of the funds saying: 'I know you don't like competitions; we don't really like competitions.'
Addressing the guidance that had been released with the Challenge Fund, Mr Berry said the DfT was looking for 'resurfacing projects, bridges, slope stabilisation projects, improvements to drainage and gullies' but highlighted drainage and bridges as two key areas for bids.
'We are not doing street lighting as part of this Challenge Fund,' he added, but highlighted there are other organisations and means of securing street lighting investment, which is generally regarded as having excellent returns. This includes the interest free loans from Salix.
He also said the DfT had worked to make the bidding process as simple as possible and now required a more basic business case and a reduced the level of information.
On the Pinch Point fund, Mr Berry revealed that the DfT 'may be sending out some further guidance in the next few weeks after the initial proposals suggested sustainable transport schemes could be included in bids.
He said that Number 10 was 'quite keen to see how we can tie that in with bus priority provision and cycling and walking infrastructure'.
'We have not had full instructions yet but the mood music is they would like to tie that in with other initiatives so that is something we will probably be sending out more guidance on in the next few weeks to authorities.'
Backlog
Mr Berry also revealed that the DfT's work with the UK Asset Management Board on developing a state of the nation asset assessment of the network, had yielded a draft report.
Highways previously reported that the work had become protracted due to the fragmented and inconsistent nature of the sector's data.
'Using the current data we have a big range as to what actually is the current backlog. Is it similar to the AIA's [ALARM survey]? Quite similar but we want to narrow it down. So we have done a little more data gathering; a health check on footways and road markings. We are working with LCRIG and Gaist on that work now. The Treasury want a definitive number,' Mr Berry said.
Mr Berry added that there was 'consistent inconsistency' on the issue and it was hard to define how the backlog should be measured.