Econ's new depot and workshop facility in Sowerby, near Thirsk in Yorkshire, is a tour de force of productive investment, a testimony to what the company means to the community it serves so well, and to what the community means to the company.
Econ's new workshop is tucked away in what feels like the back of Sowerby; bordered by undeveloped land and flanked by a new housing estate. The facility could be confused for an Ikea warehouse as you approach, a huge, clean cube surrounded by virgin asphalt and topped with iconic yellow branding. In the bright spring sunshine, everything about the place has a freshness to it. It even has that new depot smell.
Contracts for the work were placed in April 2021 but the concept started two years before that. The facility cost almost £5m – with the land costing another £2m – and you can see where the money went. Where to start? Solar panels on the roof, LED lighting on movement sensors; a canteen for staff; a water recycling system; a new variable speed screw compressor to power the air and oil supplies running throughout the 24 bays and 18 full-length purpose-built pits, some to MOT standard; the maximum insulation standard possible (level A) and electric doors to keep the heat inside; purpose-built washing facilities, paint shop and shop blast plant – even the materials from the shop blast are recycled using an underfloor auger system.
It is a one-way site with vehicle number plate recognition so the fleet is automatically registered and tracked as the vehicles are returned, refurbished, road tested and dispatched.
Every vehicle gets cleaned, valeted, waxed; any parts in need get refurbished; every vehicle has its brakes stripped regardless of mileage and all the fillers and fluids are changed. It is basically a five-star spa for trucks.
As he gives Highways the grand tour, Econ's managing director, Jonathan Lupton, says: 'We bought 22 acres of land here. We have so far developed seven acres, which is a four-acre storage compound and a three-acre workshop. So we have plenty of room for expansion. It was always a concern that if we wanted to expand we would have space.'
As the runaway market leader in winter service fleet, Econ is also a great barometer of industry trends and this facility is designed around some of the key shifts in the market.
Mr Lupton says: 'Hire has now overtaken newbuild. In terms of turnover, our hire eclipsed our newbuilds last year for the first time. We have the best part of 1,000 hire trucks. We started off with seven.
'The trend is to automation but the trucks are also getting larger. The trend is to six and eight wheelers so fewer trucks but covering more mileage for obvious reasons, drivers' cost etc. The builds are also getting more complicated. We're doing more bespoke builds; customers want more equipment on these builds so the builds take longer. So with more bays, we get more throughput.
'There is a lot more focus on navigation and tracking, more on safety with four or five camera systems and automatic reverse systems fitted, fitted compressors on the chassis as well. We are doing more multi-purpose vehicles that can be used all year round: tippers, gully-emptiers, hot boxes. Especially on multi-purpose builds, it's about trying to get more out of the truck and we are very busy building more. We are building some winter fleet to use liquid [de-icers] at the moment for Northern Ireland. There is a lot of talk of liquids in the north of Scotland as well.'
Mr Lupton points out that the customers like the vehicles removed at the end of the season as 'depot space is at a premium and a lot of depots are being sold'.
'We tend to over maintain the trucks in the summer period. A lot of our investment has gone into storage because we have to effectively move all the vehicles back and store them.'
This was a key reason behind the new facility in the first place, with the headquarters up the road in Ripon having exhausted its potential to grow in that location.
'We ended up with a situation where we were getting stifled. We were trying to service hire trucks while the factory was trying to build and there were trucks parked everywhere. The beauty is we can now pull the hire out of Ripon, still use some storage if we need, but then expand the manufacturing side there. We have two robot welders coming into Ripon and we are looking to put in some more hot box and gritter bays,' Mr Lupton says.
Econ also has one depot in Cardiff, Wales, one in Alloa, Scotland - both of these two hubs are 'working well' - and a workshop rented from Kier in Suffolk to look after the east of the country.
While the business expands the model stays the same: 'It's just really continual focus on winter and the change of equipment as that evolves.'
In this area, there is also some big news though: 'We are currently looking at electric [gritters] and we are being asked to provide them. We will be able to provide that solution within the next six to eight months. On the heavy side, hydrogen will overtake electric I think but we are waiting for that to develop.'
The Sowerby workshop launched after Easter, with an initial staff of 30 engineers each working in their own specialism, with the aim being for this to rise to 50. A further seven or eight will be working in the back offices.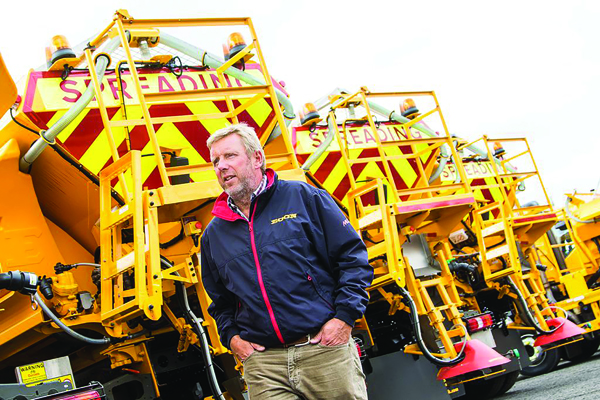 Many readers of Highways will know that Mr Lupton (pictured) has suffered terrible bereavement in the last year, losing two of his brothers. Andrew Lupton, who worked as the sales director at the family firm, was well known and much admired in our sector.
Econ will be hosting a moment of remembrance for Andrew at the forthcoming Cold Comfort conference in May, an event Andrew always loved not least because it gave him the chance to meet with so many friends in the industry he helped lead.
After such an enormous loss, Jonathan carries himself with incredible and honourable fortitude; a credit to his family values and his character.
He tells Highways: 'We are a second-generation family business. We have the third generation on the way. My focus is to run the business and hopefully the next generation will come along and take it to the next level. I am not putting anyone under any pressure. You have to have a passion to do it or there is no point in doing it.'
There are many business leaders and companies that understand the how of their industry – how to serve clients, how to get the job done. Econ is great at the how - a market leader in fact. But it also has something more important. Econ is one of those rare companies that doesn't just understand the how, it also understands why. And it's the why that makes you special; it's the why that gets you through the harshest winters.
You can sign up for Highways Magazine's winter service conference Cold Comfort here.