Highways England has appointed 11 contractors to a construction works framework for its East Region worth up to £340m over four and a half years.
The framework covers works to maintain, repair and renew the strategic road network within the region and envisages contractors from different specialist areas working together to deliver network improvement and maintenance schemes.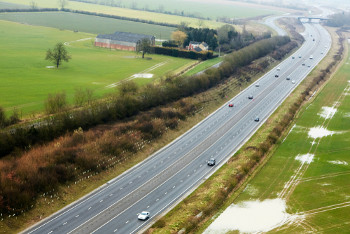 It will cover but is not limited to road lighting and electrical, general civils, technology, landscaping and ecology, road marking and studs, road restraint systems and fencing, drainage and geotechnical, temporary traffic management, structures and structural services and other similar duties.
The framework was split into eight lots, with lots receiving between three and five tenders.
For some lots only one contractor was appointed. In each case a nominal value of £0.01 is stated for the award.
Lot No 13: Structures
John Graham
VolkerLaser
Lot No 11: Temporary Traffic Management
Chevron
HW Martin Traffic Management
Lot No 9: Road restraints
HW Martin (Fencing)
Colas
Lot No 8: Road markings
WJ South
Colas
Lot No 7: Landscaping & ecology
Ainsty Timber Marketing
Ground Control
Lot No 6: Technology
Mway
Lot No 5: General civils
Eurovia
Carnell
Lot No 4: Road lighting
Carnell
The contract notice states that Highways England may also use the framework to deliver works in any other areas as a contingency.
The length of the contract is 54 months which includes a six-month mobilisation period.