Ministers have announced the end of the plug-in car grant to new orders, which it said was to allow £300m to be refocused towards extending grants for other plug-in vehicles.
The Department for Transport (DfT) said it had always been clear that the plug-in car grant was temporary and previously confirmed funding until 2022-23. Officials said the 'shift in focus will also help allow government funding to target expanding the public chargepoint network', but did not announce an actual increase in funding.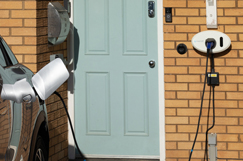 They added that successive reductions in the size of the grant, and the number of models it covers, have had little effect on rapidly accelerating sales or on the continuously growing range of models being manufactured.
The DfT published a new public evaluation report 'highlighting while the plug-in car grant was vital in building the early market for electric vehicles, it has since been having less of an effect on demand, with other existing price incentives such as company car tax, continuing to have an important impact'.
This is a reference to tax breaks for electric vehicles that do not apply to conventionally powered ones.
Transport minister Trudy Harrison seemed unsure whether to measure the 'success' of government policy by the amount 'invested', its 'ambition', or its impact. She said: 'The Government continues to invest record amounts in the transition to EVs, with £2.5bn injected since 2020, and has set the most ambitious phase-out dates for new diesel and petrol sales of any major country.
'But government funding must always be invested where it has the highest impact if that success story is to continue.'
The RAC criticised the move. Its head of policy, Nicholas Lyes, said: 'The UK's adoption of electric cars is so far impressive but in order to make them accessible to everyone, we need prices to fall - having more on the road is one important way of making this happen, so we're disappointed the Government has chosen to end the grant at this point.
'If costs remain too high, the ambition of getting most people into electric cars will be stifled.'