GRAHAM has won a contract worth £124m to design and build a scheme to improve traffic flow at Junction 28 of the M25, which links the motorway to the A12 in Essex.
According to the Highways England webpage for the scheme, its cost is '£50 million to £100 million'.
A video published by the government-owned company at the time of the preferred route announcement in 2017 gave the cost of the scheme at £79.5m.
Early design works commenced in winter 2020 and construction work is scheduled to start by spring 2022 subject to a current application for a Development Consent Order (DCO).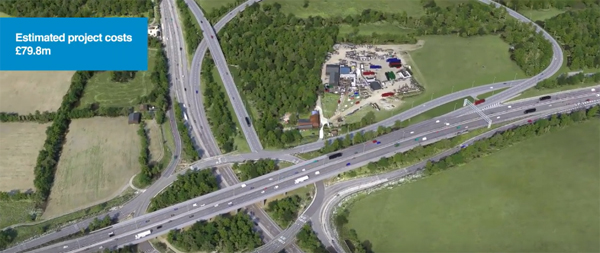 An image from Highways England's 2017 video showing the loop road
The scheme includes:
A new two-lane loop road with hard shoulder, for traffic travelling from the anti-clockwise onto the A12 eastbound
Works on A12 eastbound to maintain existing access to Maylands Golf Course
An overbridge at the A12 eastbound exit road to allow the proposed loop road to join the A12 eastbound carriageway
Widening of the M25 anti-clockwise carriageway to provide for the proposed exit road
The junction is heavily used and currently features a roundabout mainly controlled by traffic lights. Up to 7,500 vehicles per hour currently travel through the roundabout at peak times.
Highways England has said that traffic in the area is expected to increase by up to 40% by 2037, 'so without intervention, conditions will continue to deteriorate'.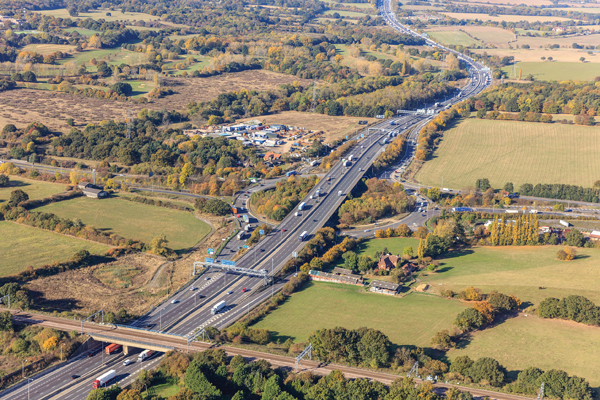 Current junction layout with the M25 running over the roundabout and the A12 below it
The contract follows the award of two other Highways England contracts to GRAHAM as part of Highways England's major highways improvement schemes across the South East of England under the Route to Market Regional Delivery Partnership (RDP) framework.
Dave Brown, highways director at GRAHAM, said: 'This is another significant scheme for us to be awarded and last of the three schemes to sign in the package following signing of the M25 Junction 25 and M2 Junction 5 schemes.
'It is testament to our growing reputation in the highways sector that we have been chosen as contractor for another important improvement scheme in the south-east of England.'