The London borough of Hackney has volunteered to host the first UK pilot of a road user charging system, calling for a 'just transition' to net zero carbon.
The East London borough said it had been laying the groundwork for a pilot for several years with a study into Through Traffic in Hackney (Peter Davidson Consultants, 2019), followed up by a 'Scoping Study for a Road User Charging Scheme in Hackney' (Atkins 2020) and a Workplace Parking viability study (Steer Group, 2020).
The mayor's ULEZ consultation referenced the first steps to introducing the next generation of road user charging in London but described any such scheme as being 'many years away from being ready to implement such a scheme'.
'Hackney strongly believes that the pace of change needs to be faster, especially if London is to make progress in reducing traffic by 27% by 2030 in line with the 'accelerated green' pathway to a net zero carbon city by that date,' Hackney bosses said.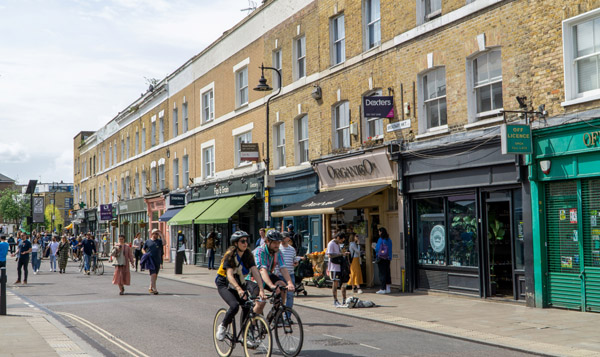 'In particular, the [ULEZ] scheme does not contain any proposals designed to progress the Central London zero emission zone promised for 2025 in the Mayor's Transport Strategy. Stricter controls are also needed to tackle harmful pollution from particulates (PM2.5 and PM10) which cannot be fully addressed through reducing tailpipe emissions but need to be linked to road traffic reduction.'
Hackney proposed it be made a pilot for the early introduction of road user charging and be 'lead local authority in any future pilot projects'.
Outlining its plan for a user charging system, the council said: 'Distance-based road user charging needs to also take account of factors such as income, disability and journey purpose. Otherwise it is just a scheme for improving motoring conditions for the rich.
'There needs to be a 'just transition' to 'net zero carbon'. The limited road space in London and road user charging should be prioritised for tightly defined 'essential traffic' such as supporting the mobility of disabled people and freight, servicing and emergency trips.
'The road user charging system needs to embed this principle, while still aiming that most other trips should switch to walking, cycling or public transport.'
Hackney added that the system needs to 'build on emissions-based charging and take account of vehicle type, but also should ramp up to heavily penalise second or third cars owned by the same individual'.
Charges could also vary by time of day, area to discourage travel during peak hours; in heavily polluted and congested areas.
The consultation response was signed by Philip Glanville, mayor of Hackney and Cllr Mete Coban, cabinet member for environment and transport.
Hackney supported the expansion of the ULEZ as well as a potential interim camera-enforced Congestion Charge Zone style zone using the cameras at the current ULEZ area boundary.
'We would also support a return to the stricter hours of the existing Congestion Charge Zone.'