The latest estimate is that Hammersmith Bridge could be closed to motor traffic for as long as three years.
The issue has become something of a political football, becoming the subject of heated debate in the Commons on Thursday.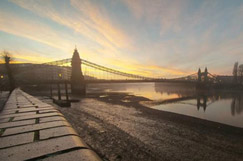 New roads minister Michael Ellis revealed: 'Neither the borough [of Hammersmith & Fulham] nor TfL [Transport for London] have approached DfT to seek funding to repair Hammersmith bridge.'
Hammersmith & Fulham is adamant it will not pay for the repairs, stating: 'Residents of Hammersmith & Fulham will NOT be paying for the repair of the bridge. They pay enough already and this bridge is used by, and belongs to, all Londoners.
'Hammersmith & Fulham Council is working with TfL to submit a bid to the government to fund the restoration of one of the capital's most iconic river crossings.'
TfL has already pledged £25m to the scheme.
London MP Zac Goldsmith called on the DfT to take a 'proper interest in Hammersmith bridge' but added that he was disappointed that TfL and council have not contacted the department.
To this criticism, Andy Slaughter Labour MP for Hammersmith came back with the point that he at least had written to the minister asking for assistance with the funding. 'So please can we stop the party politicking on this?'