Highways England has announced a new biodiversity policy for verges and the land around the country's motorways and major roads to promote wildflowers and pollinators.
Contractors on major projects are being instructed to follow a new Low Nutrient Grasslands policy aimed at keeping away the unwanted plant species that love high nutrient soil.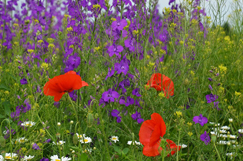 The policy will be implemented by Highways England's supply chain within the Major Projects Project Control Framework on a scheme-by-scheme basis before being applied to operational projects and wider standards in due course.
Grasping the nettle
More fertile areas with lots of topsoil - rich in potassium, phosphorus and nitrogen - favour aggressive grasses, dock and nettle, which are fast-growing plants that can out-compete delicate wildflowers for water, nutrients, space and light.
Wildflowers thrive on low nutrient soil and the new policy will remove topsoil from new grassland areas and finish them with subsoil or bare substrate such as chalk.
These areas will regenerate naturally or be seeded with wildflowers and grasses appropriate to the substrate type to create open grasslands high in biodiversity and support pollinators and other wildlife.
Highways England environmental advisor Ben Hewlett said: 'Our new policy means we'll create more biodiverse new grasslands as standard. And as 97% of all species rich grasslands have been lost in the last century, it is great to think that our construction design standards could create substantial areas of biodiverse grasslands, stretching throughout England.
'This is another great example of how we are moving away from simply minimising the impact of our work on the environmental impacts towards actually improving the environment through our work.
'The increase in wildflowers and wider biodiversity should also provide some impressive visual displays, and help to connect people with nature and improve the wellbeing of millions of people using our roads every day.'
By adopting this new policy, Highways England is hoping to:
Improve safety by reducing the number of maintenance visits;
Reduce the carbon footprint through fewer maintenance visits;
Maximise grassland biodiversity of new construction projects;
Reduce long-term maintenance costs by reducing vegetation growth;
Capitalise on potential cost savings by eliminating the need for topsoil import and haulage.
The latest information on Highways England's biodiversity work can be found in its 18/19 biodiversity report and further details are available in its Strategic Business Plan.