Highways England has invited tenders for its largest ever contract - a £2bn package to build the Lower Thames Crossing.
The crossing will feature two tunnels, 16 metres in diameter and 2.6 miles long - making them some of the largest bored tunnels in the world and the longest road tunnels in Britain.
Works on the mega project could start in around 18 months and would also create 14.3 miles of new road.
The Tunnels and Approaches contract consists of the design and construction of the twin road tunnels under the River Thames and also includes the portal buildings, approach roads and the tunnel systems.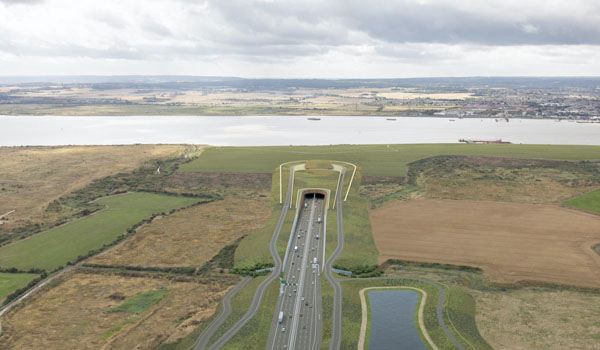 Matt Palmer, Lower Thames Crossing executive director, said: 'The Lower Thames Crossing is the most ambitious road project this country has seen since the M25 was completed nearly 35 years ago.
'At a time of huge uncertainty for the industry, this contract shows our commitment to this project, which will support thousands of jobs during its construction and provide a huge economic boost to the UK economy when it opens for traffic.'
The Lower Thames Crossing is expected to create tens of thousands of new jobs during construction including labourers, civil engineers, archaeologists, surveyors, caterers and cleaners.
A bespoke NEC4 Engineering and Construction Contract (ECC) form of contract will be used for this package, Highways England said.
The contract notice is due to be published in the European Journal on Friday (13 November) with bidders asked to return a selection questionnaire before the end of the year.
Highways England said it expected three applicants to be shortlisted to move forward into the competitive dialogue stage, with the contract award anticipated in 2022.
The tender process will be undertaken via Bravo (eSourcing platform) and Highways England ask that interest parties register via https://highways.bravosolution.co.uk.
The scheme aims to relieve congestion at the Dartford Crossing by providing a new free flowing road, almost doubling road capacity across the Thames.
Highways England pointed out that the Dartford Crossing was designed for 135,000 vehicles a day but often sees 180,000 use it, and it can take three to five hours for the roads to clear following a closure.
In its first year, more than 27 million drivers are forecast to use the Lower Thames Crossing.
Keith Bowers, the Lower Thames Crossing's tunnels and systems director, added: 'From our bidders we're looking for outstanding construction, health, safety and wellbeing performance.
'We have committed to targets that mean by 2040 nobody will be killed or seriously injured on our roads and motorways, and we need our contractors' design and delivery to meet that target for our road users and workers.
'We are setting priorities in our contracts that will reward excellence during delivery by offering an enhanced share of cost savings for high performance in areas including health and safety, customer focus, delivery, environment, people and communities and economics.'
The Tunnels and Approaches contract is the first of the three main works contacts to be procured for the scheme, with the Roads North and the A2 M2 contracts expected to be announced early in 2021.
The scheme's planning application was submitted on 23 October, and the Planning Inspectorate now has 28 days to review the application and decide whether to allow the application to proceed to examination.
A decision is expected from the Secretary of State for Transport in 2022, with construction expected to start later that year.
The Lower Thames Crossing includes:
approximately 14.3 miles (23km) of new roads connecting the tunnel to the existing road network
three lanes in both directions, apart from the southbound connection between the M25 and A13, where it would be two lanes, and around junctions
technology providing lane control and variable speed limits up to 70mph
upgrades to the M25, A2 and A13 where it connects to those roads
new structures and changes to existing ones including bridges, viaducts and utilities such as electricity pylons
two 2.6-mile (4.3km) tunnels crossing beneath the river, one for southbound traffic, one for northbound traffic
a free-flow charging system, where drivers do not need to stop but pay remotely, similar to that at the Dartford Crossing
traffic regulation measures that include prohibiting use by pedestrians, low-powered motorcycles, cyclists, horse riders and agricultural vehicles
provision of environment mitigation and replacement of special category land