Julie Cartwright (pictured) customer relationship coordinator and divisional communications champion at Eurovia, discusses the infrastructure company's work to educate its workforce in the needs of those living with dementia.
My role within Eurovia is to engage with local communities and businesses affected by our works.
Due to the need to interface with the public I signed up to a Dementia Friends session at a local community centre so that I could increase my own knowledge around dementia and improve the way I communicate with people living with dementia.
The session really helped me see past my own misconceptions and understand from a contractor's point of view how we could improve accessibility to members of the public navigating past our works.
Why this matters
• Over 850,000 people in the UK currently live with dementia
• One person in the UK is diagnosed every 3 minutes
• Dementia is described as one of the biggest health challenges facing our nation
• One in 3 of us will care for someone with dementia in our lifetime
Understanding that black patches and ramps could look like deep holes was quite a shock. After the session, I discussed it with my manager. I outlined the importance for us as a business to deliver Dementia Friends sessions to our workforce and I signed up to train as a Dementia Friends Champion.
Eurovia's senior leadership were very supportive and could see the benefits for members of the public, for employees and their friends and families. After champion training, we quickly arranged to deliver dementia information sessions with the staff working at our Derby City Centre Improvement Scheme. This was an ideal scheme as we had staff working on St Peters Street renewing a large stretch of pavement in a busy city centre, with a high number of passing foot traffic.
I have to admit that my first session delivering training to operatives was quite scary. I needn't have worried though as the information sessions created by Dementia Friends are really engaging.
Everyone was fully engaged throughout the sessions and I received some great feedback from operatives some of which mentioned that they were caring for family members with dementia and that the workshop had really helped them. An unexpected benefit of the workshops was team members talking more openly about mental health on a 1:1 basis afterwards.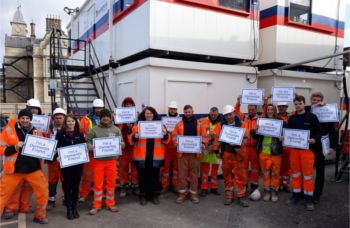 Due to the very public nature of the Derby scheme we wanted to encourage members of the community to ask for help if they need it and promote the fact we have an understanding workforce.
We came up with the idea of using promotional stickers originally used for children's information sessions and placing them on hardhats of those employees who are Dementia Friends.
The stickers really did raise the profile of our Dementia Friends programme and we received many positive comments from members of the public and an increase in people asking for help, which motivated me to deliver Dementia Friends to as many staff as possible.
The work we did in Derby was a great platform to springboard Dementia Friends sessions across our company. I was quickly invited to speak at staff training events and invited to deliver Dementia Friends sessions at other city centre improvement schemes across the country.
Within the last 18 months I have trained 340 Dementia Friends in North Yorkshire, Warrington, Manchester, Rotherham, Derby, Nottingham, Wolverhampton, Bristol (pictured), Horsham and High Wycombe. In Depots, regional offices and on specific projects.
I also decided that offering dementia friends information sessions to local groups and clients was a great next step, so this year I have delivered sessions to retirement villages in Nottingham, staff at Manchester Airport including the armed police and management staff at a shopping centre.
Our work with Dementia Friends has been highly commended by the Considerate Constructor scheme and most recently In February I had the honour of winning a special recognition innovation award and coming runner up in the management category at Eurovia's Innovation Awards 2018. I'm extremely proud to have won this and it shows our business has a continued commitment to raising awareness and encouraging staff to take small actions to help people living with dementia.
If you are thinking of becoming a Dementia Champion or if you are a business or organisation looking for ways to become dementia friendly I would really encourage you to go for it. Working towards becoming dementia friendly doesn't just help people living with dementia, it benefits everyone!