Highways magazine was able to do Liverpool Combined Authority and in particular Halton BC a favour after spotting that the Merseyside authority had been left off a £280m highways works framework.
Both Liverpool City Council and Halton BC (dark grey on map) confirmed that the 'omission' was a mistake and that the contract would be amended 'imminently'.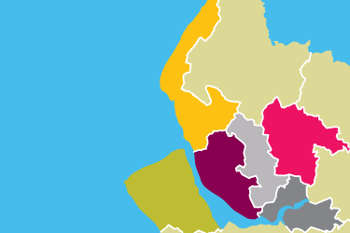 Apparently the contract notice does not have to be withdrawn and the correction can be made to the existing notice found here.
Contract details
Liverpool City Council started the tender process for the £280m worth of highways works barely eight months after officially ending a contract with Amey.
The council announced the insourcing move last November as part of a drive to deliver £90m of savings over three years in the face of Government cuts. It estimated it would save £750,000 by the move, which will be reinvested into repairing potholes and new alleygates.
In April this year it unveiled plans to make a 'landmark investment' of additional £200m on road repairs to tackle the deteriorating quality of its network and has now launched a contract works notice for construction, foundation and surface works for highways worth £280m.
The four-year framework agreement includes the £200m 'highway investment project', worth around £70m a year.
The framework will be split into three lots based on value, each covering a range of highways work including basic maintenance jobs such as micro asphalt and patching and potholes, remedial Works, repairs, maintenance of structures, and minor repairs.
Lot 1: (Works and service up to £500, 000 - nine applicants will be invited to invitation to tender (ITT) stage, with selected for the contract award.
Lot 2: Works and service between £250 000 and £6m - eight will be invited to ITT, four to contract award
Lot 3: Works and service between £5m and £12m - seven applicants to ITT, three to contract award.
'The procurement will follow the 2 stage Restricted procedure. Stage 1 selection through use of PAS91 Standard Questionnaire. Construction line members providing membership details need only provide a limited subset of selection data,' the works notice states.
'Invited bidders to ITT stage (Stage 2) will be required to provide generic and Lot specific technical method statements, questions on social value and Lot specific Schedules of Rates and Bills of Quantities.'
The framework agreement will be accessible by all councils within the Liverpool Combined Authority Boundary: Liverpool City Council, St Helens Council, Knowsley Council, Sefton Council, Wirral Council...and Halton.
The contract with my Amey began in 2013 and was due to run until 2022.