A joint venture has pledged to leverage the collective knowledge, expertise and network of two of the sector's biggest players to tackle the challenge of maintaining a chunk of London's roads.
As previously reported on Highways, the 50/50 joint venture between Tarmac and Kier has been awarded a contract under the Transport for London (TfL) Highways Maintenance and Project Framework to maintain and improve highways and related assets covering a 189km network in north London.
The brand new single supplier framework covers three separate areas of London. It is predicted to see spending of £1.4bn and will replace the old London Highways Alliance Contract (LoHAC), which was plagued by underspending and shunned by some councils in the capital.
The new North region is a result of the merger of the former North West and North East regions.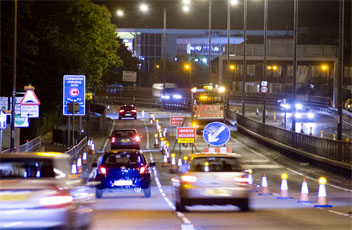 The new framework will run for eight years, with the potential to extend by an additional four. Mobilisation is due to commence this month and the contract is due to start in April 2021.
The framework can be accessed by TfL, London Boroughs and other TfL group companies
Paul Fleetham, managing director, Tarmac Construction, said: 'We are proud to have been given the opportunity to work collaboratively with TfL and our partner Kier to deliver a safe and sustainable network in north London.
'A key strategic focus will be working efficiently to minimise disruption to residents and the travelling public while supporting TfL's Healthy Streets and Vision Zero initiatives. By leveraging our collective knowledge, expertise and network of materials plants the Tarmac-Kier JV offers an exciting integrated partnership to meet London's highways challenge'
Group managing director for Kier Highways, Joe Incutti, said: 'Kier is proud to have worked with TfL to provide safe and sustainable journeys for people walking, cycling and travelling on London's roads users since 2007, and we are looking forward to continuing to do so alongside our partner Tarmac.'
Glynn Barton, TfL's director of network management, said: 'Our network of red routes are the arteries of London's road network and play a vital role in helping people get around the capital safely, whether they are walking, cycling, getting the bus or driving.