The transport watchdog has recommended that junction numbers on motorway signs should be moved to cut crashes at junctions.
Transport Focus said that with 40 to 60% of the total number of crashes in most countries occurring at junctions it carried out a survey to test the hypothesis that some unsafe driving on motorways is related to the position of the junction number on the signage.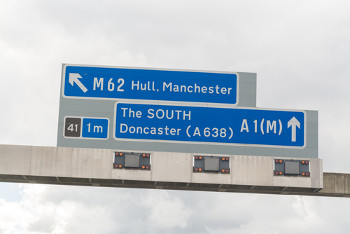 It found that junction numbers are an important element of signage and that those driving on motorways use them to navigate, alongside other methods.
Drivers said that the top left of the sign was is their preferred position for the junction number, as it is seen as the natural place to start reading, as well as because it is less likely to be obscured by large vehicles and vegetation.
Almost one in five drivers admitted that an obscured junction number has caused them to drive poorly, while many claimed to have seen 'poor driver behaviour' at junctions.
In light of these findings, Transport Focus has recommended that Highways England reviews the position of junction numbers on road signs to ensure maximum visibility for the safety and convenience of all road users.
The Traffic Signs Manual, Chapter 7, states: 'The junction number should normally appear in the bottom left hand corner of the sign. Exceptionally, it may be placed in the top left hand corner.'
However, it adds that by moving the junction number to the top left hand corner of some signs and lowering the side destination block, 'the height of the sign (and hence overall area) can be substantially reduced'.
Although nearly all (98%) of drivers cited memory or experience as a method they used to navigate on motorways, nine in ten (88%) said they used junction numbers on signs often (58%) or sometimes (30%).
This compares with 74% of drivers saying they use satellite navigation often (47%) or sometimes (27%).
Nearly two in five (38%) said that the position of junction numbers causes poor driver behaviour at least to some extent, although 'people not being taught adequately about how to drive on these roads' was cited by 93% of drivers as a cause of poor driver behaviour.
When shown diagrams of junction signs, 33% of drivers preferred the top left corner, followed by top right (31%), bottom left (24%) and bottom right (12%).
Two-thirds felt that the font size used for junction numbers is appropriate.
A Highways England spokesperson said: 'We welcome any research which we can add to our own insight to help us better understand road users' needs and improve their experiences on our roads.'