A Conservative MP has called for reforms to the maintenance funding formula for highway authorities in England to take into account road condition, traffic volumes and the council's own contributions.
Jonathan Gullis (pictured), MP Stoke-on-Trent North, Kidsgrove & Talke, argued that the way the Department for Transport (DfT) calculates the current block maintenance grant is unfair on urban authorities with major A roads.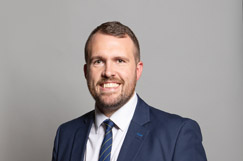 'Local authorities produce an annual report on the condition of principal A roads and the volume of traffic. I suggest it is not unreasonable to ask that a revised formula or bolt-on formula should take these reports into account,' he said.
'I think funding calculations should show due regard for road type with principal A roads attracting a premium in some way related to their condition and traffic incidents also taken into account.
'There would need to be safeguarding against false reporting of road conditions. I also think it would be useful to include a match funding element for cities like Stoke-on-Trent that put precious resources into roads despite a local council tax and low council tax base.'
The capital funding from the DfT under the current system sees 84.2% of the cash allocated to roads, based on the length in each local highway authority.
The remaining funds account for the maintenance of bridges with a span of 1.5 metres or more, and the lighting columns in each authority.
'Areas with long roads and little traffic benefit disproportionately from this formula while urbanised authorities with heavy traffic and A roads miss out,' Mr Gullis said.
The Conservative is one of the new batch of Tory MPs who won in Labour's traditional 'red wall' seats on the Midlands and North. He is battling for more funding in an area key to the Government's 'levelling up' agenda.
'When I look at Burslem - the mother town of Stoke-on-Trent, it has the most closed high street shops of any town in the UK. If we improve our pavements it isn't just about safety it is about making a statement to the community that they are no longer going to be left behind.'
In a Westminster Hall debate he organised this week, Mr Gullis cited research conducted by DfT 2018, which found A roads under local authority control made up 10% of road length but carried 31% of traffic.
Minor roads (B,C and unclassified) made up 88% of road length and carried 34% and the remaining 35% of traffic is carried on the trunk roads.
'I want to see new considerations introduced to the formula that would top-up cities like Stoke-on-Trent that lack the mileage in minor roads,' Mr Gully said.
In the debate, transport minster Rachel Maclean defended the current system but gave some hope to the Stoke MP suggesting that following the outcome of the Spending Review on 25 November, the DfT might review its funding system
She said: 'Any funding formula could be controversial but the view we have at the moment is the funding formula we have is the most fair, equitable and consistent for all local authorities.
'As we get further clarity on the outcome of the Spending Review, the department may decide to look at whether that funding approach is still the best option or whether we should continue specific aspects, such as the Incentive Element or the Challenge Fund or whether we look at other ways to effectively target funding including formula funding.'
She added: 'The formula does not provide weighting based on the condition of the road as this might create an incentive to selectively maintain the road network rather than follow asset management principles. And basing funding on traffic flow might create an incentive to concentrate traffic on areas of the network rather than encourage optimum flow.'
However, Ms Maclean argued that the funding effectively does take into account the road type as principal roads, which generally carry more traffic, as they account for 9% of all roads in England but recieve 27.47% of cash] 'which is approx thre times the amount of allocated on road length alone'.
Meanwhile, 'an approximately 55% of funding goes towards B, C and U roads which make up 88% of all roads in England' she added.