National Highways can cut the cement content of concrete and reduce its carbon impact by placing more confidence in modern quality control processes, its sustainability boss has told Traffex attendees.
Stephen Elderkin, the government-owned company's director of environmental sustainability, spoke at a panel discussion on decarbonising the UK's highways network on the opening morning of the traffic and transport event.
He said that of the three targets in National Highways' Net zero highways plan, 'the big challenging target is how you get to net zero construction and maintenance emissions by 2040'.
National Highways also plans to make its own operations net zero by 2030 and have net zero carbon travel on roads by 2050.
Mr Elderkin broke the company's construction and maintenance emissions into what he called 'three big hitters' – the transportation of materials to site; plant and machinery used on site; and the emissions that are embedded in the materials used.
He explained that while transportation accounted for maintenance and renewals activities something like two-thirds of emissions come from transport while materials account for nearly 50% of emissions on enhancement projects.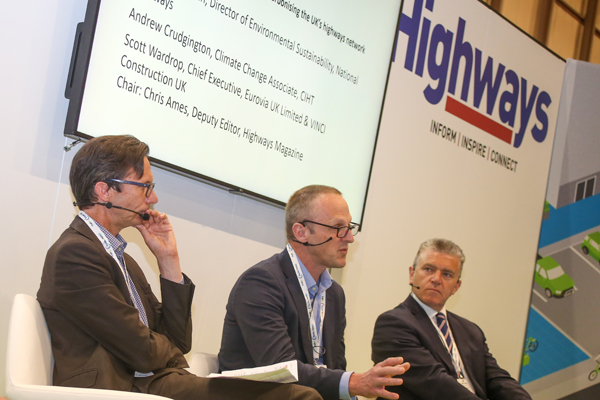 Mr Elderkin (centre) with Andrew Crudgington (left) and Scott Wardrup (right)
On the issue of lower carbon materials, Mr Elderkin said Professor Janet Lees of the University of Cambridge had highlighted that National Highways' standards specified a concrete mix with a high level of cement, based on an assumption that quality control was poor, 'just to be confident that it would be strong enough'.
'She highlighted that with new batching plant with higher quality control, we could reduce the cement content, achieve the same design strength and reduce carbon emissions.
'So, by simple changes to our standards – we've managed to rush that through in two months rather than three years – we'll achieve substantial savings.'
Mr Elderkin acknowledged that 'the first thing in the carbon reduction hierarchy is to build less, or to build nothing' but addressed this point to the issue of reducing future maintenance.
National Highways committed to major road schemes throughout the next roads period.
He said: 'The first thing we should be looking at is, how do we do things right first time? How do we make sure that the quality is such that we get durability? If we can get resurfacing to last twice as long, we can cut the whole life carbon associated with it.'
Mr Elderkin added that the rise in the price of oil could be 'helpful' in the transition to net zero, in that it helps the transition to electric vehicles.