A new roundabout in Essex that aims to improve safety and reduce the number of incident-related delays has opened after the cost of the scheme tripled.
The two-lane Hare Green roundabout, which sits on the A120 between the Harwich Road and Pellens Corner junction near Colchester, replaces four 'high-risk, incident prone junctions'.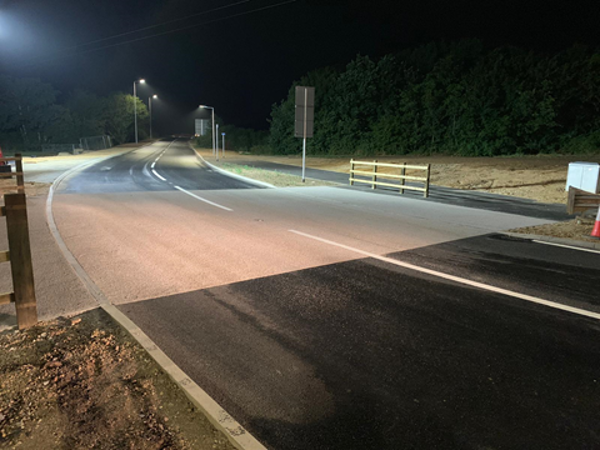 Highways England said new lighting further reduces risk of incidents and makes it easier for pedestrians, cyclists and equestrians to access routes.
Between 2011 and 2016, there were 23 recorded collisions at the Harwich Road junction with 52 casualties, including three deaths. A further 12 reported collisions occurred at Pellens Corner with 19 casualties.
Highways England said the total cost of the scheme was £9m. In its 2017 consultation brochure it said the work would cost approximately £3m.
A spokesperson told Highways that major changes were made to the scheme to reflect feedback and concerns raised at the consultation. This impacted on having to divert utility services, procure contractors to complete the work, work in partnership with local landowners and other agencies, and minimise disruption for road users and residents.
Geoff Chatfield, project manager for Highways England, said: 'Safety is Highways England's top priority, and this new roundabout will undoubtably save lives in the years to come.
'By replacing the four substandard junctions onto the A120 with this modern roundabout, we are improving journeys for everyone using this important trunk road and providing better, safer access for people using local roads nearby. Investment like this is vital to Highways England's work in reducing the number of accidents on our roads.'
Cllr Kate Strowbridge, chairman of Great Bromley Parish Council, said: 'Great Bromley village is delighted that the long-awaited roundabout a Hare Green is complete. We hope that the new roundabout prevents any repeat of the horrendous and sometimes fatal accidents that occurred regularly at this junction.'

Highways England said the new roundabout has enabled the central reservation gaps to be closed, preventing risky right-turn manoeuvres between the busy A120 and Park Road, Little Bromley Road and Bentley Road.
The scheme was undertaken by Osborne and was a partnership with Essex County Council, Tendering District Council, Essex Constabulary, Port of Harwich, Essex Chambers of Commerce, and others.