The final design of a new pedestrian and cyclist footbridge in Swansea across the busiest road in Wales has been unveiled.
In order to expand the city centre to the beach, a new city quarter is being created on previously underused surface carparks.
'Swansea Central' will be home to a new arena and conference centre, circa. 150-room hotel, a 1.1. acre coastal park, residential, offices and retail and leisure uses.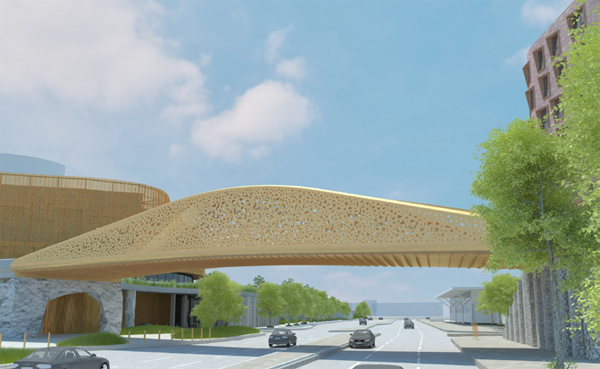 The new structure will connect the city centre with the 3,500 capacity arena and the Marina across Oystermouth Road, the busiest vehicular route in Wales, which currently separates the city centre from the Marina and Swansea Bay.
The design of the bridge by ACME and Ney & Partners, in collaboration with local artist Marc Rees, is intended to celebrate the city through the form and appearance of the bridge.
Friedrich Ludewig, director at ACME, said: 'The structure will seamlessly connect the city centre with the arena and Marina, and will become a stepping stone to connect to the beach.'
The architects said the geometry of the bridge is the result of extensive research 'to create a shape that emerges fluidly from the public realm, while at the same time providing an efficient structural solution with minimal depths'.
The design is a bow-string truss solution with the arches being shaped in plan, and the 'string' being replaced with a minimal flat plate. The plate steel will be rolled into a bi-directionally curved surface to meet structural and architectural requirements.
The pattern on the side panels is inspired by an abstracted silhouette of swans, the result of a close collaboration with Mr Rees.
The selected colour and lighting aim to acknowledge the historical link Swansea has as the birthplace of the welsh copper smelting industry.
The coloured feature lighting inside the bridge will operate in sync with the LED façade of the new arena.
The regeneration project, which has an anticipated opening date in the second half of 2021, is part-funded by City Deal contributions from the Welsh Assembly and UK Government.
Council leader Rob Stewart said: 'This is another landmark day in this transformative project, part of our £1bn-plus revitalisation of the city centre, something to benefit the whole community.
'The design by Marc Rees, in collaboration with top rate architects ACME, will provide a dramatic, eye catching new gateway to Swansea. Marrying a new swan symbol with the future is perfect! It's fun, outward looking and forward-thinking.'