The Office of Rail and Road (ORR) has said no action will be taken against Highways England despite the Government-owned company failing to meet a key safety commitment.
Highways England had pledged to ensure that the majority of those roads with a 1 and 2 iRAP/EuroRap safety rating would be improved to 3 stars over the first road investment strategy (RIS 1) period covering 2015-2020.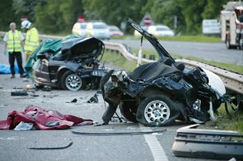 The commitment was made in the first Highways England delivery plan for the period but was quietly downplayed or dropped, and not mentioned in later delivery plans.
The roads authority admitted to Highways last year that it was struggling to meet the pledge.
Now Highways can reveal that the ORR had no intention of holding Highways England to account over the target, as it had decided behind the scenes the commitment was 'undeliverable'.
Based on an understanding of how ORR monitors Highways England this conclusion was almost certainly arrived at between the parties, rather than ORR deciding on its own.
An ORR spokesman said: 'In line with our duties as set out in the Infrastructure Act, we take a proportionate and targeted approach to monitoring Highways England. This means that we do not investigate every area of Highways England's activities in detail.
'In the case of how it prioritises safety investments relating to the star rating of the network, it became clear in Road Period 1 that the commitment to increase the majority of 1 and 2 star roads was undeliverable. Part of the point of our monitoring is to ensure that targets are realistic.
'We're clear that Highways England could be doing more and we will be monitoring the company to see that it does this in Road Period 2. We will report on the progress it makes in this area during RP2.'
The news comes after the regulator was forced to backtrack on claims that Highways England had 'demonstrated that it is applying an evidence-based approach' to improving safety.
ORR effectively admitted it had taken Highways England at its word over the assertion and conceded it had not 'demonstrated' this but merely 'stated' it.
In ORR's annual assessment of Highways England this year it gave a review of its performance over RIS 1 (2015-2020). It said: 'Highways England has not met its commitment to improve the majority of 1-star and 2-star roads to 3-star or more by 2020. In response to this, the company has explained to ORR that it takes account of both the star rating, and statistical risk of death or serious injury, of a road when prioritising safety interventions.
'We recognise that targeting its finite resources in this way can help the company achieve a greater reduction in casualties than if it focused on improving star ratings alone.'
ORR has not given an explanation as to how it came to the conclusion the target was 'undeliverable' or what trade-offs would have been necessary to make it happen.
Highways is still awaiting a response to these questions.
ORR can levy fines of up to £25m against Highways England.
In its enforcement policy, ORR states a serious contravention might involve 'significant responsibility on Highways England's part and continuing failure by Highways England to adequately address and put in place action plans to remedy the issue'.
'The contravention may form part of a wider sustained, systemic or persistent failure, and there may be the potential for further similar harm to be repeated if the problems are not addressed.'
At a 'serious' contravention level, ORR would normally impose a fine of up to £2.5m.
A very serious contravention could result in a fine of up to £25m and might involve 'significant harm, or the risk of significant harm, being caused to a wide range of third parties and/or greater culpability on the part of the Highways England, for example, where Highways England was intentionally misleading'.
A recent report from the Road Safety Foundation concluded that both the company's target of a 40% cut in killed and seriously injured (KSI) casualties by the end of 2020 and the long-term goal of no one being killed or injured on the strategic road network (SRN) by 2040 'are unlikely to be met by current activity'.