Highways England has suggested that it is unlikely to meet a safety target to improve the majority of roads that fall below a key engineering benchmark but says it remains an 'aspiration', Highways can reveal.
The target is based on the star ratings of the EuroRAP system (also known as iRAP), which measures the inherent safety of a road's layout and infrastructure.
Highways England was praised by road safety experts for surveying its entire network under the methodology, which is built on safe systems thinking, but the potential to miss the target will raise questions about financial allocations and strategy.
The Government-owned company's 2015-20 delivery plan states: 'We will ensure that by the end of 2020 more than 90% of travel on the strategic road network is on roads with a safety rating of EuroRAP3* (or equivalent). We will also ensure that the majority of those roads with 1* and 2* safety rating have improved to 3*.'
As Highways has reported, a survey carried out by Highways England in 2015 found 95% of travel on the network to be on roads rated as three star or above on the EuroRAP system.
This means that Highways England had already met its 'travel' target at the beginning of the period over which it was to be achieved. It also reflects the fact that most travel is on motorways and dual carriageways, which are inherently safer.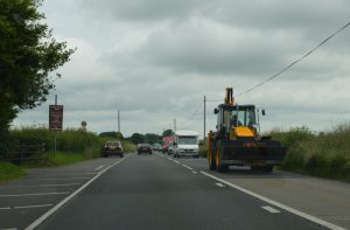 However, the survey rated just over 1,000 km (15%) of the SRN as one or two stars on the EuroRAP/iRAP system. Nearly 63% (by length) of single carriageway strategic roads were rated below three stars in the survey.
Highway England's head of road safety, Richard Leonard, conceded that Highways England has not set up a comprehensive delivery programme to ensure that it brings the majority of one and two star roads up to the benchmark, although it has a programme of improvements valued at £77m to single carriageway roads from its £175m Designated Fund for Cycling, Safety and Integration.
He also explained that other works, including major schemes that might include upgrading roads to dual carriageway, could also improve a road's star rating.
The £77m figure represents one two hundredth of Highways England's £15bn 2015-20 budget, despite the fact the average number of killed and seriously injured (KSI) casualties per vehicle mile on single carriageways is more than six times higher than on motorways.
Published statistics show that while there were 752 KSIs in 2017 on England's motorways, which carried 608.5 hundred million vehicle miles of traffic, there were 415 KSIs on single carriageway A roads on the SRN, which carried only 54.1 hundred million vehicle miles of traffic.
Highways England stressed that its priority is reducing the overall number of people killed or seriously injured rather than make more structural, engineering changes to the network to improve its theoretical risk level, despite the high KSI per vehicle mile ratio on single carriageway roads.
Speaking to Highways ahead of publication of a long-awaited document setting out Highways England's work using the EuroRAP/iRAP methodology, Mr Leonard suggested that the firm will struggle to meet the target to improve roads falling below three stars.
Highways understands that the document will not disclose progress against the pledge or provide a forecast of where the firm expects to be in 2020, although Highways England has modelled the impact of major schemes on its network.
Mr Leonard admitted that he could not state what the company's current progress in improving roads below three stars is, insisting that this could only be measured by resurveying the network next year.
He said: 'We know it's improving because of the work we've done. I can't sit here and say we are at x. Single carriageways could be tricky to get above [three stars]. On the one and two star roads, we know there is more to do.'
Mr Leonard added: 'The challenge with single carriageways is, because of their very nature it's quite difficult to raise the actual star rating of those roads. Are you going to lower the speed limit? Are you going to upgrade them to duals? They're difficult roads to improve.
'We do think we will have improved them through the work we've done and we'll know that in 2020 when we resurvey. But single carriageways are difficult. Those roads are tricky to treat.'
Dr Suzy Charman, head of the Road Safety Foundation (RSF), told Highways: 'Achieving 3-star single carriageways operating at 60mph typically needs wide verges, clear roadsides, wide centre lines/cross hatching, not too frequent junctions. Where big constraints exist (i.e. amount of land available), upgrades may not be cheap and/or speed limits may need to be introduced.'
When asked if Highways England remained committed to the pledge to upgrade the majority of roads falling below the three star benchmark , Mr Leonard said: 'We are working towards it and we will know where we are in 2020. So our aspiration is that the majority will be [three stars or above].'
The timings involved in the resurveying mean the second Road Investment Strategy will have been programmed for delivery before the new results come in – meaning it will be too late for the new data to inform targets or cash allocations for further safety improvements from 2020 to 2025.
This is somewhat unavoidable as far as Highways England is concerned. Experts in the RSF, who called its surveying approach 'diligent and sound', recommend surveying every five years, as Highways England has done.
Mr Leonard explained Highways England's approach to meeting the 2020 target: 'When we started the RIS period, we straight away had a look at star rating and we knew that our single carriageways, because of their very nature, are high-risk roads. Motorways are generally safer.
'So we said in our designated fund for safety we'd focus on [the] single carriageway network and the designated funds we'd focus on that network, looking at those roads where we knew the star rating would be a little bit lower and we also looked at how we can improve the star rating of those roads, recognising that we knew they were high risk. It was a conscious decision.'
However, asked whether Highways England had a comprehensive list of works that could improve the star rating of its substandard roads, he said: 'There was a list of roads we wanted to focus on. We don't have an inventory of every road and everything we are going to do.'
Mr Leonard stressed that Highways England's approach was focused on meeting a key performance indicator target to reduce the number of KSI casualties though a variety of measures, including changing driver behaviour.
As Highways has reported, KSIs on the SRN have been recalculated following changes in police reporting, with a 7.7% fall since 2015 putting Highways England on track to meet its target. However, fatalities on the network were not affected by the recalculation and have actually risen.
Mr Leonard said: 'Star rating gives you a feel for the in-built safety of the network but what you must always do is then look at how that relates to risk, actual risk.
'What we always say in star rating is, you might have a road that has a relatively low star-rating but actually it's not high risk, there's not many accidents on there. And what you are trying to find is those roads where there is a low star rating and a high risk and those are the roads you need to focus on.'
However, at a road safety conference in November 2016 Mr Leonard gave a presentation on Highways England's use of the EuroRAP/iRAP methodology in which he described its approach as 'Moving away from reactive safety…towards pre-emptive safety and incident prevention' and as 'acting before crashes and casualties occur'.
Given the high casualty rate on single carriageway roads and that Highways England's target only requires it to upgrade 'the majority' of one and two star roads, it is not clear why it considered meeting the pledge to require upgrades to roads without a high casualty rate.
The widely-praised programme of improvements to local authority roads under the Government's Safer Roads Fund saw councils use the EuroRAP/iRAP methodology and associated software to plan improvements that would improve the safety of roads identified as having a high casualty rate.
However, Mr Leonard stated that the impact of improvements on Highways England's network could not be accurately forecast.
He said: 'We've agreed with government that we will resurvey our roads at the end of this roads period, so post-March 2020, to see what difference we've made to the star rating.
'That will also create a baseline for the next RIS so we understand what improvements we've made though major schemes, but also what improvements we are making through wider activities [such as upgrading vehicle restraint systems].'