Prime minister Boris Johnson has celebrated a leading highways company as exemplar of his 'build back better' initiative.
Mr Johnson visited FM Conway's Heathrow Asphalt Plant this past weekend to discuss how the infrastructure sector can best recover after COVID.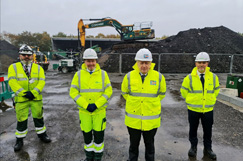 Company chairman Michael Conway MBE, chief executive officer Adam Green and head of operations Mark Whelehan met with Mr Johnson to talk about the 'build back better' campaign and what this means for infrastructure.
Applying his quintessential rhetoric to the science of bitumen and aggregate recycling, Mr Johnson praised FM Conway for its green credentials and ability to re-use road materials up to eight times.
'I am here at FM Conway, which is a quite wonderful company and they do an absolutely astonishing job surfacing, and re-surfacing roads,' he said.
'What I don't think people realise is that FM Conway is capable of recycling a road no fewer than eight times. They take off the surface of the road, they put it through the mill, they freshen up the aggregates with all sorts of life-giving chemicals, they put bitumen back in it and then they use it again to surface the road.
'They are one of the greenest road companies in the whole of the world and I absolutely congratulate them on what they are doing. They are helping this country to build back better.'
The news comes as Westminster City Council and FM Conway broke ground on a first of its kind 'low-carbon construction scheme'.
The six-week project to repair highways and upgrade the footway in King St in Westminster will use 'electric vehicles, tools, welfare, and recycled equipment, to remove the traditional need for diesel and petrol engines and cut carbon emissions by almost 75% compared to traditional industry methods'.
Further measures will include the use of:
Electric JCB excavators and ground tools
Electric ZipCar for carbon-free transport to and from site
'GreenPatch', an FM Conway recycled asphalt product
Quieter electric equipment will reduce noise pollution
EV charging points for electric vehicles and tools which will remain in situ as a legacy of this project
E-cargo bike for small deliveries
Westminster and FM Conway have both set out ambitious targets to achieve carbon neutrality ahead of the Government's target of 2050.
Cllr Andrew Smith, Westminster's cabinet member for highways and environment: 'If we are to truly tackle the effects of climate change and meet our ambitious target of Westminster being carbon neutral by 2030, then we must revolutionise the way we do things as a local authority, this includes the way we carry out our essential daily works and operations.
'We hope that the success of this trial will see public realm works across the city transform for the better and help us towards maintaining a greener and cleaner Westminster.'
Adam Green, CEO of FM Conway: 'It is fantastic to see this great partnership taking such an important step forward in our ambition to tackle carbon emissions.
'As an industry leader for driving innovation and change, it is vital that our collaborative efforts are seen as the foundation for transforming our working practices for the better. We all have a responsibility to protect our planet and with the support of our supply chain, we hope to deliver a low carbon legacy for Westminster and London.'