Powys County Council plans to invest £600,000 in a new salt dome to quadruple storage capacity at its depot.
The unitary authority, which covers approximately a quarter of Wales, has submitted a planning application for the new facility at its Llangammarch Wells depot.
It is aiming to increase overall salt storage capacity in the county to 34,000 tonnes to help meet Welsh Government requirements.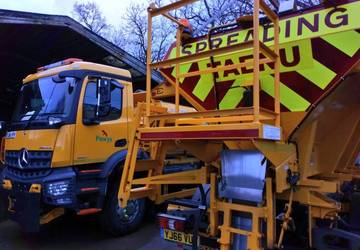 The depot - which is a base for highway maintenance, repairs, vehicle storage, salt storage and salt distribution - currently stores approximately 1,600 tonnes in a prefabricated concrete building.
This will be demolished and replaced by a new dome store, increasing capacity to around 7,500 tonnes.
Phyl Davies, cabinet member for highways, said; 'The investment is part of the council's Winter Service Plan and will help meet plans to increase the overall holding capacity to 1.5 times the average use over a five year period. In Powys' case, the recommended salt stock level is 34,500 tonnes; we currently have capacity for some 23,000 tonnes.
'Our highway service provides winter maintenance for the county network as well as working on behalf of the Welsh Government's North and Mid Wales Trunk Road Agency, so having suitable, strategically position salt storage is essential.'
The plans for the new facility will be considered by the council's planning committee later this year and if approved work on the site could start next spring.
A council spokesperson told Highways that it is also planning to increase capacity at its depot in Newtown.
The area was badly hit in March this year by both the 'Beast from the East' severe weather and the later 'mini-beast'.